The 2021 Tin of Ancient Battles officially released last week, bringing Crossout Designator to the TCG, and showering us with long-awaited reprints like Triple Tactics Talent, Nadir Servant, and Tri-Brigade Fraktall!
There are dozens of tournament-worthy cards in the massive MP21 set, including some really gorgeous Prismatic Secret Rare upgrades. Last week we looked at preorders leading up to the Tin's release, which were dominated by casual fandom cards, a few top tournament reprints, and surprisingly, a LOT of Virtual World foils.
But presales are one thing: today we're looking at post-launch best-sellers, and we're counting down the Top 10 from the 2021 Tin of Ancient Battles by unique purchases! Tin cards ruled the secondary market this week: if you wanted to find the first card on the best-sellers list that wasn't from the tins, you'd have to look all the way to Number 44, Emergency Teleport from Ghosts From the Past. The tins were everything this week, to the surprise of no one.
So with no further ado, here are the most popular cards on TCGplayer this week!
#10 Dogmatika Ecclesia, the Virtuous
Right behind Crossout Designator and Triple Tactics Talent, there's a bunch of splashable cards in the 2021 Tin of Ancient Battles that work as flexible engines in several different decks, and were basically pay-walled until now. The Dogmatika cards, chiefly Nadir Servant and Dogmatika Ecclesia, the Virtuous, are some of the biggest, and since they're now down to about $20 and $14 respectively, lots of duelists are getting caught up on them.
These cards aren't just competitive, they also feel like a pretty safe investment through the January 1st banlist. Both of them might still drop in price a bit when we see a second wave of Tins, but overall they feel pretty close to a price floor. For perspective, Nadir Servant just missed the Top 10, coming in a Number 13.
#9 Adamancipator Researcher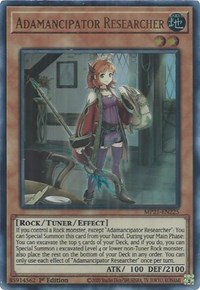 Adamancipators are a little further off - it's pretty rare to see these cards in tournaments right now. That said, the deck still made solid finishes in Extravaganzas as recently as June, and there IS that Ready Fusion build Ed Acepcion's been running around with, so Adamancipators may not be entirely finished. For now it's an attractive buy at two bucks, especially since this was once a $60+ card.
#8 Shaddoll Schism
Shaddolls are always sitting on the fringes of competition, but until last week this card was one of the factors keeping them off tournament tables. It's difficult to commit to a semi-competitive deck like Invoked Shaddolls when a must-run card like this costs north of $35, which is where Shaddoll Schism was at its peak, from March into May of this year. Now that it's literally one tenth of that price, for a swanky Prismatic Secret at that, it's no surprise to see it selling like hotcakes.
#7 Ghost Mourner & Moonlit Chill
Ghost Mourner & Moonlit Chill
Ghost Mourner & Moonlit Chill isn't an incredible card, but it gets a lot more interesting when you're willing to play slightly subpar hand traps in a bid to dodge Crossout Designator. And like Shaddoll Schism, people are a lot more willing to give it a try when it costs three or four bucks, instead of forty. Seriously, this card was 40 dollars at launch!
Even at its lowest point before the reprint hype kicked in, Ghost Mourner & Moonlit Chill was almost 20 dollars, even when nobody was playing it. Now, one giant price dip later, people are picking up playsets. It's a good time to get in, since this could be legitimately useful in a post-Designator world.
#6 Fusion Deployment
Fusion Deployment was a wildly popular card when it first released in Eternity Code, and while you could wait a week for the common reprint in Structure Deck: Cyber Strike, lots of players decided to shell out the whole two bucks and get Prismatic Secrets instead. At the very least, Despia love this thing, and it's generic enough that it could see play elsewhere in the future.
#5 Triple Tactics Talent
Sliding a spot from its Number 4 position in presales, Triple Tactics Talent still seems firm at the $40 mark post release, and it'll probably remain that way for at least a while. With no reason to believe it'll slide much further players weren't holding off: the average buyer was getting 2 copies, which is a pretty sell for serious competitors who didn't want to pick it up before where it was $130.
Seems reasonable.
#4 True Light
In a bit of a surprising turn, all three of the new support cards for Dark Magician and Blue-Eyes White Dragon took dominant spots in the Top 10. MP21 is a giant set, with 258 cards total, so if you're the kind of player who's just looking for a few nostalgia cards you might as well just grab them on the secondary market.
True Light was moving for $7+ in the presale period, but now that it's down to roughly $4 it's proving exceptionally popular. It'll be interesting to see how these cards fare over the coming weeks, and how long they can hold out over popular tournament cards.
#3 Piercing the Darkness
The surprise Number 1 card in MP21 preorders, Piercing the Darkness fell from $6+ to less than $3 when the tins officially launched, continuing to sell plenty of copies through the week. Like I said last week, I'm a big fan of how this card functions as both classic Duel Monsters support, but also works with Normal Monster themes like Suships and Magikey. This thing has a lot of applications and while it's not an explosive OTK card, it's rock solid support for a ton of existing strategies and countless ones to come.
#2 Divine Arsenal AA-ZEUS - Sky Thunder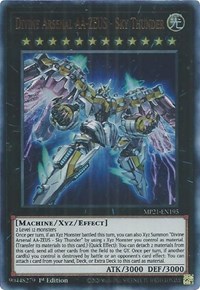 Number 2 in presales and Number 2 again for launch week, Divine Arsenal AA-ZEUS - Sky Thunder fell a couple of bucks to a Market Price of $18 this week, and as of this writing there were listings for as little as $16. I don't think we NEEDED any real proof that Tri-Brigade would continue to see massive play in the new format? But if you needed to be convinced, the sustained demand for Divine Arsenal AA-ZEUS - Sky Thunder is pretty good evidence.
Kind of related: I really, really want to see somebody top the Extravaganza this weekend with Melffy Brigade. Please.
#1 Magician's Salvation
Finally, the last of the three new Dark Magician and Blue-Eyes White Dragon support cards, Magician's Salvation rocketed from Number 6 in presales to Number 1 this week; the single best-selling Yu-Gi-Oh card on TCGplayer.
Duel Monsters fandom and casual cards really ran the field this year, in the annual tins release week. And if you're wondering, no! This doesn't usually happen! Check out last year's Top 10 from the 2020 Tin of Forbidden Memories: Red-Eyes Dark Dragoon at Number 1, Apollousa, Bow of the Goddess at Number 2, I:P Masquerena at Number 3, and so on, even down to Mystic Mine at Number 9 and Fantastical Dragon Phantazmay at Number 10. Every single card in last year's Top 10 was a tournament card.
What does that mean for the state of Yu-Gi-Oh? I don't know. Maybe the tournament players already preordered everything they needed. Maybe a large portion of them already had cards like Triple Tactics Talent and Dogmatika Ecclesia, the Virtuous. Or maybe after a year and a half of no in-person events, player interest has shifted a bit. I don't know. But it's interesting to consider.
Will you be playing in tournaments this weekend? The Remote Duel Extravaganza this weekend is going to be massive, with stellar new prizes, a virtual Token Booth, and some really big changes to event formats! If you haven't checked it out yet you can read all the details in Hanko's latest article, and pre-reg is running today.
If you're going to try and score your share of those new prizes, I wish you the best of luck!