It's 8 AM on December 22nd. Do you know where your children are?
…Well, if they're Yu-Gi-Oh players, odds are good they were on Reddit reading about the craziest discovery in Yu-Gi-Oh since the Upper Deck Seal of Orichalcos first surfaced.
Reddit user loserchris, whose real name is Kevin Lee, made this post.
The post described how Lee discovered six Yu-Gi-Oh cards emptying out his closet, and upon turning to the internet, believed they may be rare. He asked the redditors of r/yugioh for information, and was quickly informed that all six cards were promos from Series 3 of the 2006 Mattel Action Figure Series, three of which were so exceedingly rare that they'd never been photographed. The MF03 printings of Elemental Hero Avian, Elemental Hero Clayman, and Cyber Dragon were thought to have been lost to Yu-Gi-Oh history, if they'd ever been printed at all.
And now here they were, forgotten in Kevin Lee's closet.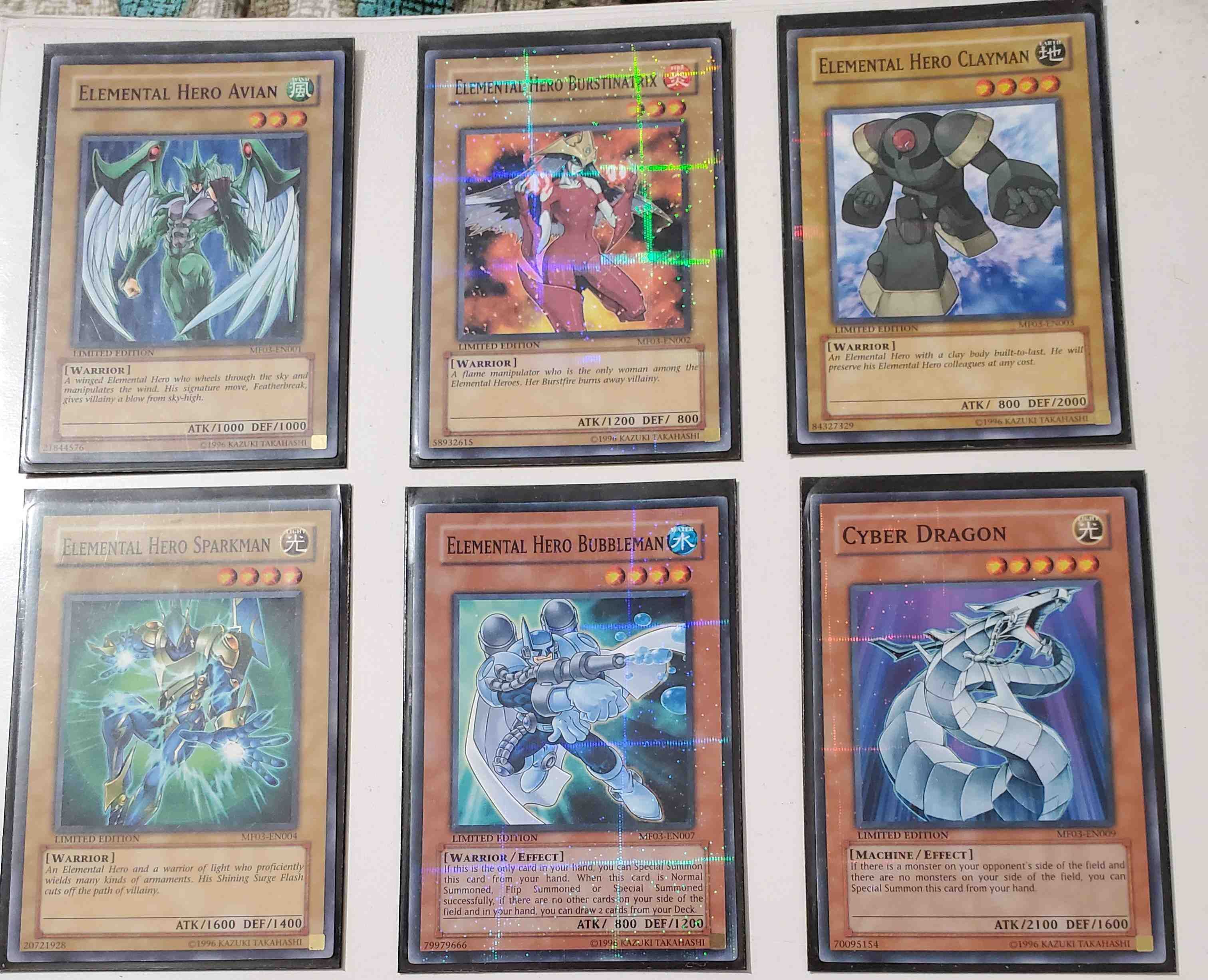 The floodgates opened immediately with interested parties, both curious onlookers wanting to learn more about the cards, and others offering to own them. I've never had so many players in my inbox and the cards weren't even mine; people were immediately asking me if they were real, many telling me I should reach out to Lee ASAP to try and help this seemingly newly returned player navigate the seas of the online Yu-Gi-Oh world. No one wanted to see him scammed out of his treasures.
And so began what's been an extremely hectic few weeks for me! I got in touch with Lee over Reddit and later Discord, and we began the process of trying to verify the cards as real.
The first thing I did was have Kevin scan his cards, so that we could update our galleries on Yugipedia and preserve the discovery forever; that was important, since once these cards were graded scanning them would become much more difficult. After he took a quick visit to a friend who owned a scanner and that process was complete, we began the process of appraising and authenticating his cards.
The first thing most of us noticed was that the Cyber Dragon had the wrong set ID. The card actually read "MF03-EN009", when for 15 years we'd thought the card was MF03-EN010. To some this was a red flag pointing to the card being a fake; but to others, it's a clear sign it was real, as anyone creating fakes would obviously use the set ID they'd looked up. His [Elemental Hero Clayman after all was MF03-EN003, and that matched what we had previously, and that too was a one-of-a kind first-photographed card!
The Cyber Dragon not the only treasure here, and in my personal opinion the coolest card of the three was the MF03-EN001 Elemental Hero Avian, since not only did we believe Winged Kuriboh LV10 to be the "EN001" slot for that set, we didn't even have Elemental Hero Avian included in the list of MF03 releases! To me, these were all very good signs as to these cards being real. (And in hindsight, having four of the five Elemental Heroes and starting from EN002 like that makes Avian kind of obvious…)
From there we decided to do what most Yu-Gi-Oh collectors do: get the cards graded by PSA. I reached out to TCGplayer and had them update their set list with the new IDs so as not to confuse the graders with conflicting information, and we announced to the internet that the cards were going to be graded, and then go up for sale. The response was tremendous, but the feedback was remarkably negative. Almost nobody wanted to believe these cards were real, and PSA's reputation came up over and over again as they've famously graded fake cards before. Nevertheless, we pressed forward with feedback from some high-end collectors on the best way to do things.
I contacted CGC, a company that recently authenticated some Blastoise cards that were more or less beta Pokémon cards, and unfortunately the response we got was that CGC doesn't do Yu-Gi-Oh. I spoke to two different people on the phone, and sent several emails. I also reached out to a few people at Konami to try and see if there was any evidence the cards had even been printed, but the response suggested that none of the cards even exist… not even Bubbleman, Burstinatrix, or even Thunder Giant, despite those cards being rather abundant on the secondary market.
If you check the official Konami card database, there aren't even entries for these cards, as, so the story goes, these are among the 'fake' cards made by Upper Deck Entertainment outside of the bounds of their official contract with Konami - part of what caused them to lose their license to distribute Yu-Gi-Oh in the first place. That means these cards are likely not eligible for tournament play, so all the more reason to grade them; they can't be put in a deck anyway!
Over the course of two weeks I'd had several phone calls with some people at PSA explaining to them the rarity and backstory of these cards, that they were one-of-a-kind and we were looking to get them graded and authenticated. We were assigned a personal liaison to the particular order who filled out a ton of paperwork for us, guided us through the rest of the process, and had Kevin deliver the cards in person, on a Friday, and pick them up graded the following Monday. It was an extremely expensive process, but all six cards were authenticated and graded.
Once again, that was more green flags as far as I was concerned: Kevin took copies of three cards that have been graded many times before, and if they were counterfeit he was risking those being caught, alongside the three never-before-seen cards. At the very least nothing obvious jumped out to the authenticators. After so many photos of the Eye of Anubis stamps, the cards fronts, the card backs, videos of everything, the grading process itself, as well as Kevin's patience with this and his willingness to have CGC and others look at the cards, at the very least I'm convinced that Kevin himself truly believes his cards to be real. I do as well.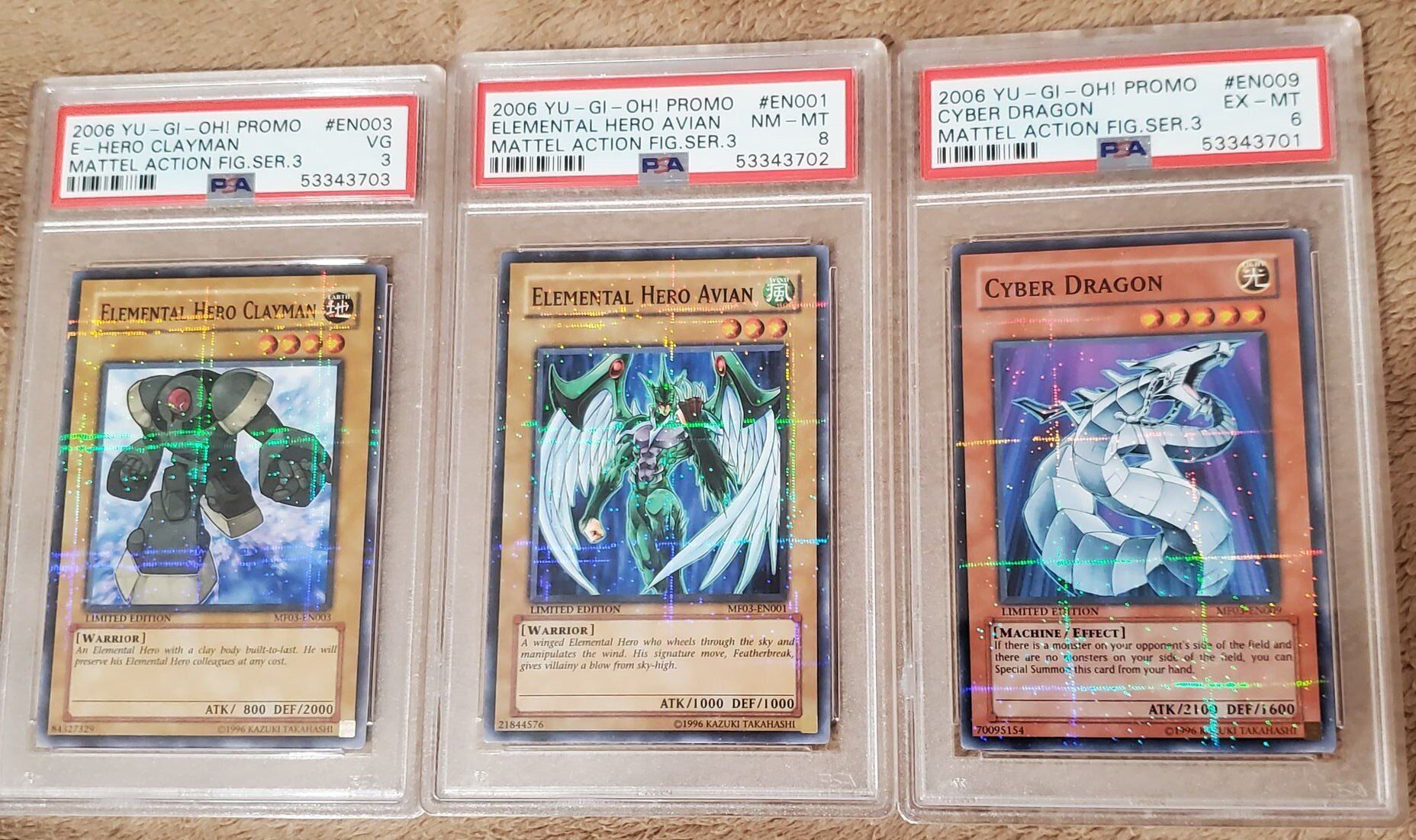 With all of that behind us, here are the official PSA Certifications for the three never-before-seen cards.
The Results!
So now it's auction time! We set up a discord server to help Kevin sell his cards. Here's how it works.
By joining the server you get taken to an information channel where you can read all about how Kevin found these cards and what we know about them. There are some nice question and answer threads too, as well as a general chat. The plan is that on January 15th, when the auction opens, we'll accept requests to have potential bidders vetted.
Applicants will be temporarily granted access to a vetting usergroup giving them access to a channel only them and the auction staff can see, where they can prove who they are, where they are, and the funds with which they're making their bid(s). After we're satisfied a potential buyer is legit, the information will be deleted from the channel to protect the user's privacy, the user will be granted access to the bidder usergroup and have the vetting group removed, making them unable to see the chat for future users who will be doing the same.
Users may then place their bid(s) in the bids channel that only bidding users can post in, but everyone can see. The general chat will be used for public discussion about offers and the cards and whatever else. There are very few times when something like this has happened in the history of Yu-Gi-Oh, and everyone involved wants to make sure that duelists across the globe get a chance to see how the story plays out.
We hope to see you all there!