For the longest time, the Standard metagame developed at absolutely incredible speed. Highly visible streamer events full of high-profile players happened within days of the set's release online. By the time of SCG Philadelphia last year, during the release weekend for Throne of Eldraine, Bant Golos was already a known quantity with players teching for repeated mirror matches.
Right now, though, it feels like the metagame is… kind of lurching in a few different directions. Streamers are obviously still streaming, but there aren't any big events, just players trying different things.
The one exception to this was a pair of Standard Challenges on Magic Online. Two clear stories emerged from these tournaments: Bant Ramp is the most popular deck right now as the most obvious home for Ugin, the Spirit Dragon, followed by a variety of aggro decks which are looking to attack the slow Ugin decks. As it turns out, the best way to beat an eight-cost spell is to never let them get to eight mana to begin with.
Interestingly, the deck to beat just two weeks ago barely showed up at all. In all 64 published decklists from the two tournaments, there were only two Temur Reclamation. If the Top 32s of both tournaments are any hint, it's likely there were quite a few copies of Teferi, Time Raveler present to keep the deck from showing up. Between a bad matchup against Bant and a host of aggressive decks in all five colors, Reclamation likely has to wait until the metagame develops further and there are fewer Teferi, Time Raveler running around.
While Bant Ramp put up the best numbers in terms of published decklists and Top 8 representation, it never managed to win the whole thing. In Saturday's event, both Bant decks lost to Sultai Ramp and Mono-Green Aggro, while Mono-Green Aggro faced off against Mono-Red Aggro in Sunday's event. Aggression is the name of the game, and Mono-Green feels like a serious contender, at least for week one.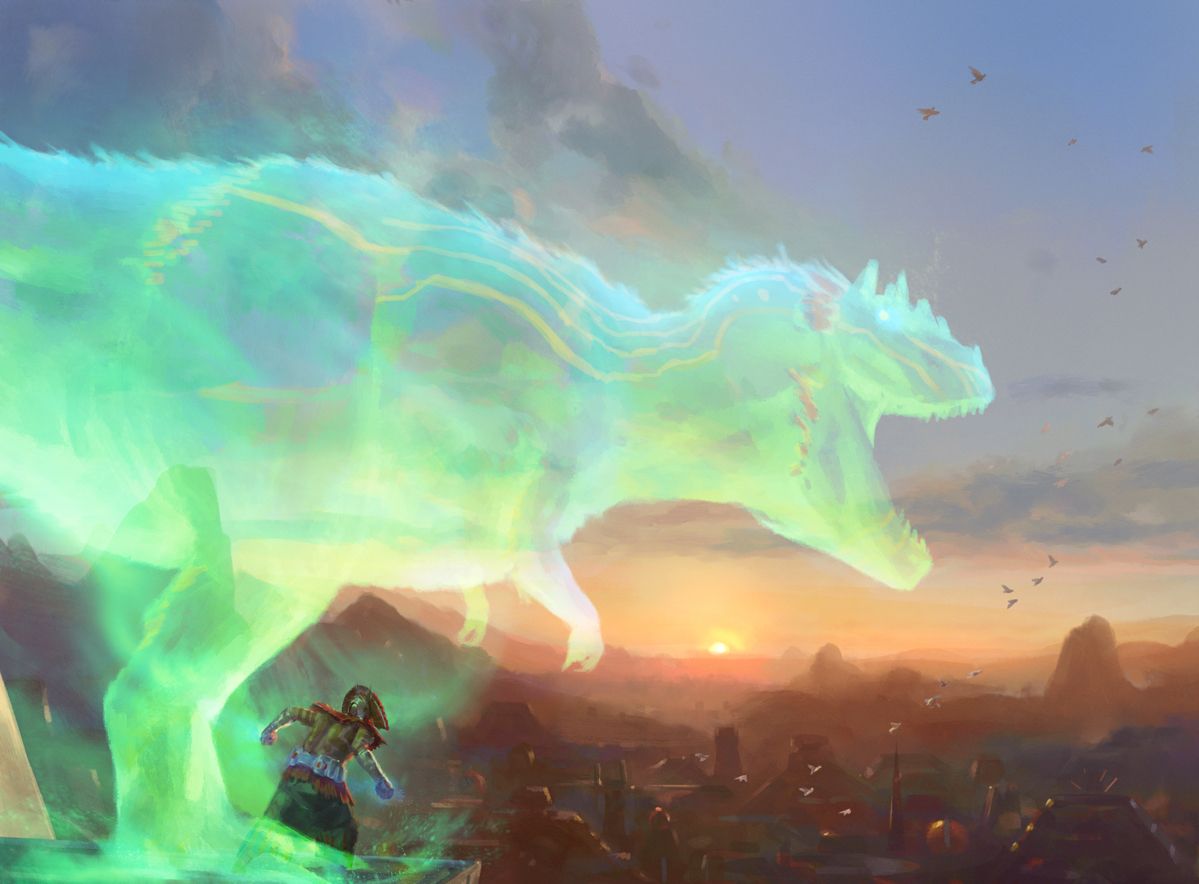 What isn't particularly clear is which way the metagame is going to develop. When aggro does well, there tends to be a noticeable uptick in removal and wrath effects as players react to the latest developments. But slow Bant Ramp decks ostensibly did the best on the weekend, and Sultai Ramp, which lacks the same tools against aggressive decks that Bant has, won Saturday's event. And if there's one thing I've learned in all my time playing, it's that Magic players love any excuse to register Sultai.
This leaves me wanting two things: first, to play an aggressive deck as a way to punish Bant and Sultai, and second, to have an advantage against the other aggressive decks.
The first of these is fairly straightforward: put the opponent on a clock and punish the overabundance of Temples, Triomes and shock lands. The second is about identifying which of the many aggressive strategies have natural strengths to win aggro mirrors, either by being the bigger aggro deck or by having removal or creatures that are going to win when both players are enacting their game plan. Thankfully, there are a few decks that seem suited for that.
#1: Gruul Aggro
Magic: The Gathering TCG Deck - Gruul Aggro by HEROtsukai
'Gruul Aggro' - constructed deck list and prices for the Magic: The Gathering Trading Card Game from TCGplayer Infinite!
Created By: HEROtsukai
Event:
Rank:
Standard
Market Price: $112.63
Cards
Gruul naturally fills the role of the bigger aggro deck. Cards like Gruul Spellbreaker and Questing Beast should be the biggest threats at their weight class, and Pelt Collector can get out of control too fast for opponents to adequately block. In a stalled board, both Embercleave and Primal Might give the deck ways to break through and win out of nowhere.
On top of all of that, Bonecrusher Giant seems absolutely absurd at the moment.
When it came out, Bonecrusher Giant quickly became a litmus test for aggressive decks in the format. Any deck that can't beat a two-for-one Stomp and 3-converted-mana-cost 4/3 has a hard time competing when Bonecrusher is commonplace. The format feels like it has gotten progressively bigger, though, and its stock has steadily fallen the past few sets, because there aren't many 2 toughness creatures worth Stomping.
Now, not only are there plenty of targets for Bonecrusher Giant, even the Bant decks are playing them in the form of Jolrael, Mwonvuli Recluse. Jolrael puts the aggro decks in the weird place of needing removal before it generates too many free creatures, but creature removal is otherwise terrible against Bant. A threat that, against one of Bant's best anti-aggro cards, will two-for-one them without dedicating any specific slots is invaluable right now.
The list above is one way to build the deck, and I will never fault anyone for pushing Edgewall Innkeeper. That said, when I tried the deck this week, Rimrock Knight was so bad that I wanted to board it out constantly, but couldn't because then there wouldn't be enough Adventure creatures in the list. Lovestruck Beast also only has ten ways to make a 1/1. Four of them are Lovestruck Beast itself, and those two Pelt Collector won't stay 1/1s for long.
VTCLA on our podcast brainstormed a list that was more haste and more Dragons, with four Pelt Collector, Robber of the Rich in the two-drop slot, and Skarrgen Hellkite at the top to double as game-ending haste threat or a dominating force against aggro. If I had a tournament this weekend, I would be exploring that direction for Gruul.
#2: Rakdos Sacrifice
Magic: The Gathering TCG Deck - Rakdos Sacrifice by Nick Prince
'Rakdos Sacrifice' - constructed deck list and prices for the Magic: The Gathering Trading Card Game from TCGplayer Infinite!
Created By: Nick Prince
Event:
Rank:
Standard
Market Price: $130.38
Cards
Since 2020 started, Rakdos Sacrifice has been the anti-aggro deck of the format. Mayhem Devil makes playing cheap creatures almost impossible, Cauldron Familiar and Witch's Oven make attacking a nightmare, and all the pieces together build an engine that other decks have trouble competing with.
I honestly cannot say enough about Claim the Firstborn right now. This card has never looked so good as in a format full of aggro decks and a Bant deck that plays Jolrael, Mwonvuli Recluse, Hydroid Krasis, Uro, Titan of Nature's Wrath and a pile of Nissa, Who Shakes the World lands to get stolen, sent to attack and then sacrificed.
Frankly, the thing that was holding this deck back in June was all the Temur Reclamation running around. Now, though, there's barely any of that to be found, and it has seemingly all good matchups: Bant and Sultai have consistently been reasons to register Rakdos Sacrifice, and it does an excellent job of beating up decks like Mono-Black Aggro.
The only new card the deck really got was Village Rites, which has impressed me more than I thought it would. An extra sacrifice outlet to go with Claim the Firstborn is definitely welcome, but it also plays very well against removal because it's so cheap. Sacrificing a Mayhem Devil or Priest of Forgotten Gods in response suddenly puts you up a card and mana in the exchange, and completely punishes Adventure creatures like Bonecrusher Giant, Murderous Rider or Brazen Borrower.
Currently, this is the deck I would register for a tournament this weekend if I had one I needed to play. That it beats up players on the Arena ladder right now is just an extra bonus.
#3: Izzet Prowess
Magic: The Gathering TCG Deck - Izzet Prowess by VTCLA
'Izzet Prowess' - constructed deck list and prices for the Magic: The Gathering Trading Card Game from TCGplayer Infinite!
Created By: VTCLA
Event: MTGO Standard Challenge - 06/27/2020
Rank: 3rd-4th
Freeform
Market Price: $116.33
Cards
Finally, two great minds thought alike this past week with Izzet Prowess. Ally Warfield wrote a guide for the deck that went out on Saturday, the same day that Baker Top 8'd the Magic Online Standard Challenge with the same strategy.
Interestingly, because the archetype is brand new to this Standard format, there were many differences between the two lists. But the deck thrives in the current format because the evasive creatures clock an opponent so quickly that just a small amount of disruption is typically good enough to get the win. Bant isn't realistically going to make a Hydroid Krasis or Shark Typhoon token large enough to block an early Sprite Dragon ever, and it's going to have to count on being able to bounce or kill every creature the Izzet deck plays rather than locking up the board with creatures like an Uro, Titan of Nature's Wrath or big Hydroid Krasis.
Against aggressive decks, Izzet already has Shock, which is good for many of the reasons that Bonecrusher Giant is, and Brazen Borrower, which buys enough time against the best cards out there like Rotting Regisaur or Embercleave. That means the deck naturally has multiple ways to stall aggro built in. On top of that, all of its creatures are already evasive, so board stalls will rarely happen.
What I like most about these decks is the ability to bring in some all-star effects post-board. Narset, Parter of Veils is so powerful against Bant, where they're actively trying to draw two cards in a turn, that I feel like I want more of them. And against decks full of small creatures, Flame Sweep takes care of them in short order.
My one point of caution is that a lot of what makes decks like Izzet Prowess effective is the surprise factor. Once people know what the key cards are and how quickly the deck can kill when they go uncontested, the more people will have the ability to play against it. The rising number of Mystical Dispute is also tricky for a deck that plays all blue threats. And it can still take splash hate from Aether Gust in the maindeck as well.
Its wins are also often pretty scrappy. If you're going to pick up this deck, be prepared to eek out every point of damage and win with a Shock off the top of the library, because there are plenty of games where that will be the only route to victory.
All in all, M21 has done a better job than I hoped at making Standard more interesting. I've been able to move away from the grind-fests that are Growth Spiral mirrors, and finish a match in under 45 minutes for the first time in months. Ultimately, even if Bant is still the best deck, there are other players in the metagame that are making it work for its wins. There should be some week-to-week shifts in the format that will keep me trying new cards and strategies for a few more weeks before the top few decks settle. With any luck, one of them might even be an aggro deck this time.