From a young age, I was terrified of many things. I was scared of clowns, heights, and even to this day, deep, open water. I had so many nightmares as a child I scarcely know how I made it through my early days. However, there was one character in a certain card game that I feel taught me a few good lessons about fear, and helped me through my formative years as a result. I'm talking, of course, about Chainer, Dementia Master.


From a young age as a fledgling Magic: The Gathering player, I'd been enthralled by the Odyssey and Onslaught sequence of blocks. From my first acquisition of an Odyssey Tournament Pack to the expansion of the Cabal in the Dominaria set, the continent of Otaria on Dominaria has always had my heart. This was not limited to the cards, either—the books hold a special place in my heart as well. Of the stories, two characters were my favorites: Ixidor, Reality Sculptor, the early antagonist of the Onslaught story, and Chainer, Dementia Master, the protagonist of Chainer's Torment—the book which carries the story of the Torment set.
I built my Chainer, Dementia Master Commander deck in 2017, during a rough patch in my life. I'd just moved out of my parents' place and was scoping out my future and all this entailed. I had a few different decks within the format—not the least of which was an Edgar Markov Vampire tribal deck—but I was more than willing to let each and every one of those decks be dismantled to fuel this Nightmare of a deck, pun intended.
I've written about my Chainer, Dementia Master deck before, on other sites. I'm always looking for a reason to write about this deck wherever I can, because it really is that cool of a deck. I've also dismantled the deck about twice—once on financial grounds, and another time to fuel other decks with its contents. But in the end, I can't bear to part with Chainer, Dementia Master.
The key thing that makes Chainer, Dementia Master so relatable (for lack of a better word) is the courage he as a character has. In order to find Nightmares to summon, he needs to encounter them in his own psyche, in an area known as Dementia Space. Therein, he confronts and conquers his nightmares in order to be able to summon them at will from his mind.
As someone who shares the mindset that one must become one's own fear to conquer that fear, I can relate to this practice, in a roundabout way. In essence, Chainer, Dementia Master taught me that clowns are just as harmless as any person in a suit (John Wayne Gacy notwithstanding). Heights get less scary the taller you are, and, as for the ocean… Well, It takes a lot to emulate the ocean, so we are still working through that. Ultimately, though, this literary therapy is what makes Chainer, Dementia Master my favorite character in Magic: The Gathering and, by a similar token, my favorite Commander deck.
I'm rambling. Let's talk about why you're here: the deck tech.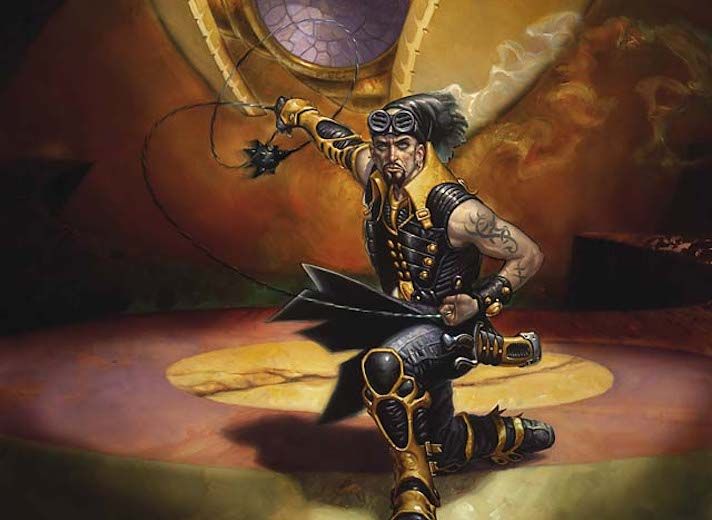 According to ChannelFireball's chart on Commander power level, as well as various others that can be found with a quick Google search, the deck I'm showcasing here would be ranked around a six in power, meaning the deck is "Focused." This is defined as containing "powerful card interactions, but few or no infinite/game-ending combos." However, with careful analysis and a lot of play time, my Chainer, Dementia Master build is probably more apt to be a seven or eight in power—just above the cut for strong, casual commanders, but just shy of competitive levels.
Some key reasons that you might want to use this deck are:
If you like reanimation strategies
If you like being the only successful reanimation strategy in your pod of players
If you dislike using infinite combos or refuse to use them otherwise, for any reason (note that this build has a couple of enablers of such combos; there are substitutions for a few of these synergistic cards available)
If you dislike losing cards on a semi-permanent basis (as most cards in this deck don't stay in the graveyard)
This deck may not be for you in the following cases:
If you enjoy attacking players or planeswalkers
If you like utilizing the variance of more than one color (note that Mono-Black can do basically anything other colors can, with little exception)
Magic: The Gathering TCG Deck - Threnody for the Victims of Dementia by Josh Nelson
'Threnody for the Victims of Dementia' - constructed deck list and prices for the Magic: The Gathering Trading Card Game from TCGplayer Infinite!
Created By: Josh Nelson
Event:
Rank:
Commander
Market Price: $1442.60
Cards
Chainer, Dementia Master is a 3/3 for five mana, which seems under-par by today's standards of Commander players. However, because we don't make use of combat except in serious binds, his stats only matter when removal is concerned. Sure, he doesn't avoid a Lightning Bolt, but that is why we protect our commanders, right?
His abilities are why we play Chainer, Dementia Master, however. His first ability, an anthem for Nightmare creatures, is irrelevant except in cases where combat matters. His last ability, the one that exiles all Nightmares when Chainer, Dementia Master leaves the battlefield, seems detrimental to our cause, but can be worked around with careful planning. So far, though, the commander we are working with feels pretty weak.
That is, however, until you read his second ability, which is where Chainer, Dementia Master shines. At instant speed, paying three black mana and three life, Chainer, Dementia Master can reanimate any creature from any graveyard, turning it into a black Nightmare in addition to its other types (although it doesn't retain its other colors). This ability allows you to reanimate any creature you'd like, even in response to opponents attempting to reanimate that creature themselves. It's like eBay sniping, only less frustrating for the buyer./p>
Creatures
This deck houses some of the most fearsome black-aligned creatures in all of Magic: The Gathering. Some of those creatures are not large or particularly intimidating, but size doesn't matter when their abilities are strong. Creatures such as Bloodghast or Viscera Seer have been picked for their tenacity or their utility. Viscera Seer in particular is important as a one mana sacrifice outlet. Cards like that are your failsafe in case Chainer, Dementia Master is removed from the field when you have creatures in tow that you wish to retain for later.
The most important creature outside our commander in this deck is Xiahou Dun, the One-Eyed. An obscure card with a novel effect, Xiahou Dun, the One-Eyed can recur our instants and sorceries from graveyard to hand. Coupled with our commander, Xiahou Dun, the One-Eyed facilitates some disgustingly-strong loops with cards such as Torment of Hailfire, Temporal Extortion and Darkness.
Artifacts and Enchantments
Many artifacts in this deck are good for Chainer, Dementia Master game plan. While most can't be recurred, they provide ample acceleration and security to the deck. For example, Skullclamp allows Chainer, Dementia Master to draw cards off of creatures dying, while Crucible of Worlds allows Chainer, Dementia Master to recur lands (thus adding to the deck's recursive effectiveness).
It is important to note that two artifacts in particular lend themselves to infinite combos in this deck: Rings of Brighthearth and Nim Deathmantle can do pretty nasty things when combined with cards like Basalt Monolith or Ashnod's Altar. While I don't recommend cutting Ashnod's Altar, you can choose to avoid the combo capabilities of it with Nim Deathmantle, or you could cut the Nim Deathmantle out entirely. To make Rings of Brighthearth less disgusting, two cuts must be made: the aforementioned Basalt Monolith and Deserted Temple.
Also of note: sacrifice outlets are vital for this deck. Chainer, Dementia Master exiling ability is nothing to take lightly—it's as devastating a liability as Chainer, Dementia Master himself is an asset. Therefore, cards like Ashnod's Altar, Phyrexian Altar and Altar of Dementia are all auto-inclusions in this deck.
As for enchantments, black has a variety of different options for you to choose from. Effects such as that of Grave Pact are great here. However, Grave Pact itself is too color-intensive (even for a Mono-Black deck such as this). Dictate of Erebos will do fine as a replacement, as will Butcher of Malakir where creatures are concerned.
Instants and Sorceries
While not as important to your overall game plan as the cards that enable them, non-permanent spells help you gain an edge in the game. It's good to keep in mind that tutor effects, such as Demonic Tutor or Beseech the Queen, are basically wildcards to get you the cards you're missing from your plan. It's best they be used proactively unless you're in a serious bind (such as mana screw or aggressive targeting).
It's fun also to note that, when thinking of what Mono-Black can do in relation to the abilities of other colors, the following cards in this deck will do the jobs of similar cards outside of black:
Lands
Speaking of the acceleration of mana, many lands in this deck will, at some point or another, inevitably create more than one mana at a time. Ancient Tomb comes to mind as a good example of a card that will do this with no extra work put in, while Cabal Coffers and Nykthos, Shrine to Nyx will do the same with an established board state.
The Game Plan
In the beginning of the game, you will want an opening hand of between three and four lands, a sacrifice outlet, a mana rock and a creature you can cast with what you have. A tutor can substitute any of these things, but it's better to use fewer tutors in the early game if possible.
Your early game consists of turns one to three, occasionally going as long as through turn four. Any later than this and you've likely faced enough disruption to slow your plan to a crawl. Remember, this doesn't mean you're down for the count… yet. Just lay low and let your opponents do the infighting. Either way, during this time you want to make sure your mana base is established and some relevant pieces are set up for when you bring your commander out, signaling your midgame.
The midgame of this deck goes from turns four through six, but can last through turn eight in a bad or slow spot. The first thing you'll want to do here is summon Chainer, Dementia Master and protect him at the first possible convenience. This is where tutor priority shifts to equipment like Swiftfoot Boots or Lightning Greaves. In a perfect world where you already have one of those cards in play, you can now tutor Xiahou Dun, the One-Eyed and initiate that game plan (it helps that Xiahou Dun, the One-Eyed can recur most tutors in the deck).
It's vital to recognize this deck is at its weakest during the midgame as your life total will begin to dwindle, but don't panic! The life total can be seen simply as a resource here—it'll bounce back in time. In case you're worried enough about it, consider Entomb a Sangromancer.
In your endgame, which is ideally between turns seven and the game's end, you will likely initiate loops of Kokusho, the Evening Star or Gray Merchant of Asphodel, or be in the throes of looping Torment of Hailfire with Xiahou Dun, the One-Eyed. One or two uses of Torment of Hailfire usually causes the remainder of the table to concede, but if not, the effect of the card itself ought to end things in a few cycles of the loop.
Final Notes
Chainer, Dementia Master is strong. The deck I've crafted, out of perhaps 50 or more games with slight changes over time, has a fairly-impressive estimated 80% win rate. It's caused playgroups to quake where they stand and even put some bounties on my victory. Needless to say, it's gross.
There haven't been a lot of changes to make in this deck lately, with regard to new cards. Even with some slight tweaks over time, the deck hasn't changed much. If a new card is released to shake the deck up for the better, it'll be included. If that new card changes the deck's game plan for the worse, the deck will adapt. In the end, Chainer, Dementia Master always prospers.