Last week was a bit... unusual, but that's all behind us.
For a while there, buyers were ravenous for the 25th Anniversary cards that came in McDonald's Happy Meals. The sheer volume of purchases blocked out the sun and surpassed purchases of nearly every other Pokémon single on TCGplayer. The fervor has died down now, and while Happy Meal packs are moving fast, the singles themselves are no longer selling well enough to show up on our Top 10 Best-Sellers.
#10: Bulbasaur (McDonald's 25th Anniversary)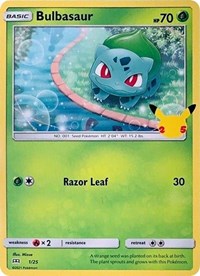 Well, mostly. Bulbasaur barely edged out Charmander to become our #10 bestseller.
Last week I neglected to mention a key reason these cards are a target for investors. While cards like Charizard V (swsh35-79) are much rarer and shinier, The Pokémon Company has indicated that it's willing to reprint sets that have experienced product shortages. Which is to say, all the recent sets. COVID really did a number on the supply and distribution of trading cards.
That means recently printed premium Pokémon cards could drop in price significantly, depending on which sets get reprinted and in what quantities. If you're an investor, that's bad news. But TPC is not expected to reprint the McDonald's cards since they're so closely tied to the game's 25th anniversary this Saturday. Arguably, they're the safer bet.
I'm still not convinced, however. As I said last week, fast food chains don't have a great track record when it comes to collectibles. So many McDonald's cards are now in circulation, and I don't see how the vast majority of them will ever be worth more than $1 tops.
#9: Reshiram (SHF 017)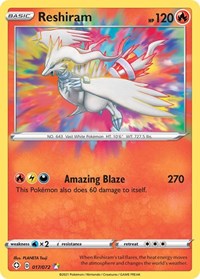 Shining Fates released a week ago, so singles from the set are making their way onto the secondary market. Reshiram is the first such card to earn best-selling status, and it's also one of three Amazing Rares in the set.
Like the Amazing Rares from Vivid Voltage, Reshiram has a splashy, colorful background and an incredible attack that you'll probably never pull off because it requires three different types of energy. It's still beautiful, though. It's unclear right now whether The Pokémon Company will continue printing Amazing Rares in future sets, now that they've printed one of each type. If they don't, this version of Reshiram will become an even hotter collector's item than it is now.
#8: Crobat V (SHF 044)
Competitive all-star Crobat V got reprinted in Shining Fates. Before Friday, it was hovering around $12 —then its price dropped by nearly 50%. It's had a busy week, with lots of players grabbing copies while the price is right, so Crobat V's market price has been ticking upward. If you need one of these for your Standard deck, get it now before it trends any higher.
#7: Kyogre (SHF 021)
Our second Amazing Rare from Shining Fates. I feel very threatened by Kyogre's open mouth. Please ask it to close its mouth, thank you.
#6: Yveltal (SHF 046)
Amazing Rare #3 has an ability worthy of that description. There's no ambiguity: Amazing Destruction will knock out anything, regardless of HP or resistance. Once again, this attack's energy requirements are likely too high for Ygeltal to succeed competitively, but I can't help hoping that someday I'll get to shout "Use Oblivion Wing!" as my opponent picks up their Coalossal VMAX (swsh4-99).
Plus, the colors on that hurricane background. Gorgeous.
#5: Pikachu V SWSH061
This cute version of everyone's favorite electric mouse comes in Shining Fates Collection [Pikachu V]. That collection costs around $40 and also comes with five packs, while individual packs are selling for $10. Simple math shows that if all you want is packs, you're better off buying a Collection and selling the promo, so here we are.
#4: Dedenne-GX (UNB 195a)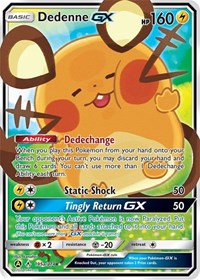 It's not new, it's not rare, and it's not from a Happy Meal. It's just the cheapest printing of a card that players need if they want to play Standard.
And I guess it's kinda cute.
#3: Pikachu (McDonald's 25th Anniversary)
While the rest of the McDonald's anniversary promos have faded into the background, Pikachu is holding strong. Massive supply has kept normal printings of the card to $2, despite its popularity, but foil versions have a market price of $46.39. That's 10% higher than last week. If any of the McDonald's cards prove me wrong and hold their value over time, it'll be this one.
#2: Eevee VMAX SWSH087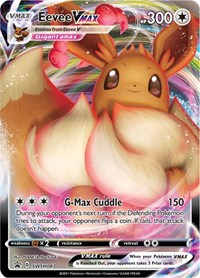 Just like Pikachu V, Eevee VMAX comes for free in a popular Shining Fates sealed box, that being the Elite Trainer Box. The ETB was purchased by more unique buyers than any other Pokémon product this week, so there are plenty of copies of the 59-foot fluff running around.
#1: Boss's Orders
Last week was the first time since I started writing this series that Boss's Orders wasn't in the top 3. It scared me. I need some kind of consistency in my life, even if it's just the consistency with which competitive Pokémon players buy the best Supporter to come out of the Sword and Shield series.
But Boss's Orders is back and cheaper than ever, now that it has been reprinted in Shining Fates. I feel safe again.