Chase cards are really popping off this week.
Yesterday I posted a massive guide to investing in Starlight Rares, and while that was happening big market shifts launched some of the game's hottest chase cards into the stratosphere. Dark Magician (Ghost Rare) went from a pretty steady $700, to auctioning for more than $1400 as discerning collectors hunt for Near Mint copies. Some number of Ghost Rares from GFTP are coming out of packs with imperfections on the card backs, and while unaffected Near Mints are hitting all-new heights, the last Light Played copy sold here on TCGplayer as of this writing went for $999. There just aren't enough Dark Magician (Ghost Rare) to go around.
Ten Thousand Dragon was going nuts too, after several Gem Mint copies graded as PSA 10s, the highest graded awarded by the Professional Sports Authenticator, were auctioned for $3500 to $4000. At this moment, the best price here on TCGplayer for an ungraded Near Mint copy is $2500, with several more listings at higher prices. Meanwhile Number 39: Utopia (Astral) is on the rise too, with recent sales on TCGplayer topping $450, and the Median price for listings at nearly $600.
Meanwhile the best-selling cards of the week were all singles in Ghosts From the Past, as players continue to bat cleanup on cards for the set's hottest themes: Dragunity, Shaddolls, and Time Thief. The best-selling card of the week was unchanged from the last time we looked, and the set's two top reprints were still winners as well.
Let's get into it! Here are the Top 10 best-selling cards of the week in the TCGplayer Marketplace.
#10 Time Thief Adjuster
Down from Number 6 two weeks ago, the newest incarnation of Time Thief Perpetua is still hot, as a new must-run for serious Time Thief decks. Special Summon effects are great, and while Time Thief Adjuster can't hit the field without a chaperone, she's a welcome addition that helps start or extend your combos. Her Foolish Burial effect sets up powerful cards in your graveyard and at Level 4, she gets you right where you want to be.
If you missed Loukas's Time Thief deck article this week, make sure to check it out! He did an awesome job creating a build that showcases just how well this theme plays with others.
#9 Dragunity Knight - Areadbhair
Dragunity are gaining momentum, both as a minimal engine in Dragon Link, and as an independent strategy. That's brought Dragunity Knight - Areadbhair into the Top 10 for the first time so far. With an easy negation effect, a punishing backrow wipe, a nice little banish-in-battle trick, and 3300 attack points, it's a more stable payoff than Dragunity Knight - Ascalon, and works better when you can't take the game outright.
Dragunity Knight - Areadbhair really easy to make off lesser Dragunity Synchros like Dragunity Knight - Barcha, and if you want to give it a try, Kelly put it to work in his wallet-friendly build.
#8 Hieratic Seal of the Heavenly Spheres
Dragon Link's back on top as the format's deck-to-beat after a series of wins, including William Candia' victory at the April Yu-Gi-Oh Extravaganza, and current builds are running two copies of Hieratic Seal of the Heavenly Spheres. If you're new to the deck and just putting it together now, the $4 Ultra Rare from GFTP's a steal, and it's been a huge get for buyers ever since GFTP entered presales.
#7 Evenly Matched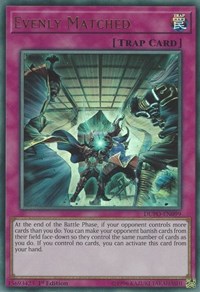 Evenly Matched is a great card that drifts in and out of competition according to which decks are seeing play, but at $20 to $25 it was a bit much for lots of players. Now you can grab it for $15 or less, and that's made it a popular pick as competitors gear up.
This card wasn't in the Top 10 during presales, but now that rarity upgraders have had their fill of stuff like the Time Thief Ultra Rares, players are starting to get serious and picking up Evenly Matched to fill out their playsets.
#6 Helshaddoll Hollow
Another new addition to the Top 10, Helshaddoll Hollow chasing Nehshaddoll Genius here in the Number 6 spot. Neither card is a surefire staple in decks like Invoked Shaddolls, but Helshaddoll Hollow seen some experimentation lately, and it's probably never getting cheaper. It's a sensible buy as Shaddolls continue to deliver on the competitive fringe.
#5 Nehshaddoll Genius
Formerly Number 1 in GFTP presales, Nehshaddoll Genius fell back to $7 from its peak of $13+ a couple days after launch. Demand's definitely on a decline, but as the price for this kind of card falls we tend to see buyers who were holding off rush in at certain price points, so the demand's not going to drop off all at once. I'm eager to see if Nehshaddoll Genius makes a showing at the Latin American Remote Duel Invitational this weekend.
#4 Dragunity Glow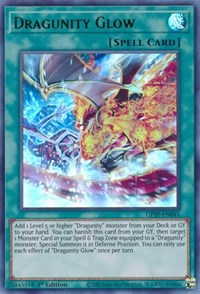 Mirroring the surge of interest in Dragunity Knight - Areadbhair, Dragunity Glow is WAY up in the sales charts, formerly at Number 10 in presales. The Reinforcement of the Army for high-Level Dragunities sold like hotcakes on GFTP launch day, but it's done really well over the last two weeks too, as players continue to try and make dedicated Dragunity work.
#3 Dragunity Remus
Apart from the Ghost Rares, Dragunity Remus is still the star of Ghosts From the Past, and it's still $17. We talked last week about how this is seeing three-of play in Dragon Link variants, and with Dragunity Remus selling so well over the last two weeks there's no sign that interest in that concept is declining. That said, we're just two weeks out from the next round of RDI Qualifiers, and anybody who's got the Dragunity spice is probably going to hold it until those tournaments come around.
Unless we see some action from Dragunity Remus at the Invitational this weekend, it's going to remain a wild card until Qualifiers start on the 15th.
#2 Dragunity Legatus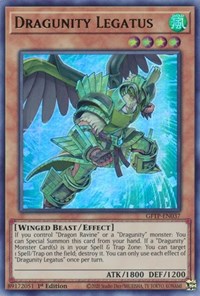 Dragunity Legatus was nowhere near the Top 10 two weeks ago, but now that players are exploring it with Dragunity Remus as a small Dragunity engine in Dragon Link, it's really taken off. Dragunity Legatus was undervalued on launch day, selling by the bushel at about 3.50 a copy, but now it's bouncing between $5.50 to almost $7.00 as tournament players start to give it more respect.
#1 Red Supernova Dragon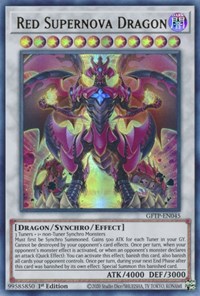 Finally, Red Supernova Dragon emerged as GFTP's best-selling single, slowly sliding from $11 to about $8 as Synchro fans collect their copies. The demand and price have been pretty consistent over the last week, and this thing's proven to have serious legs, as both a Giant Cool Monster That Does Crazy Stuff™ and a throwback for us 5D's nostalgia-types. Stay tuned, because we're going to be featuring this in a new type of deck build coming up soon.
What else was big this week? Harpie's Feather Duster nearly made the Top 10 at Number 11, always an indicator that more players are gearing up to play real, cardboard Yu-Gi-Oh, even if it's via Remote Duels. Hieratic Sky Dragon Overlord of Heliopolis clocked in at Number 12, bringing another generic Level 8 Xyz with a negation effect into competition. Knightmare Unicorn finished at Number 13, Phantom Knights' Fog Blade ended the week at Number 14, and the foil upgrade of Update Jammer wound up at Number 15.
That's it for me, but stick with us through the weekend for Anthony's April Metagame Recap, as well as something completely different: a look at the top prize-winning Speed Duel decks from the latest Yu-Gi-Oh! Extravaganza! If you want to win hundreds of dollars in prizes, but you only want to spend 30 dollars on a deck, Speed Duels might interest you, and we're going to show you the decklists you need to get started.