Last week we saw the real market response to the Ghosts From the Past reveals, and to the surprise of some, we found out that the buzz surrounding the set did nothing to slow it down.
Instead, we saw presales triple the day we found out Crystal Wing Synchro Dragon (Ghost Rare) was the set's final chase card (instead of the hoaxed Ghost Dark Magician Girl), and presales rose even higher when YugiTubers unveiled the entire set list.
One week later, did that trend hold? Absolutely: last week we bent the rules of our usual Top 10 to show you where Ghosts From the Past sealed product fell, as product-hover id="229657" came in at Number 3 and product-hover id="228256" held the Number 1 position as the best-selling Yu-Gi-Oh product on TCGplayer for the week. This week it was more of the same: GFTP displays were up to Number 2, and boxes were Number 1 for the second week running. Meanwhile presale prices for displays dipped fewer than 5 dollars, while individual boxes are basically where they were before, give or take 20 cents.
The performance of Ghosts From the Past is nutty, and it may be showing us that the collector's market is finally blowing up in Yu-Gi-Oh. The five Ghost Rares in GFTP Dark Magician (Ghost Rare), and while we'll need to wait and see where those cards settle after release, the early numbers will likely feed the frenzy for sealed product once it hits retail. With presale prices still nearly double MSRP, Ghosts From the Past probably won't last long on big box shelves.
With that said, that's probably enough said about GFTP presales. We'll return this week to our regular "singles only" format, bumping the Ghosts From the Past sealed off the list to focus on the most popular individual cards. So let's count 'em down! These were the Top 10 best-selling Yu-Gi-Oh cards on TCGplayer, the week of April 9th, 2021.
#10 Knightmare Phoenix
Ghosts From the Past may not change much about the shape of tournament competition, and when that's the situation for a new release we often see staples for returning players climb the best-seller charts. That effect was amplified in recent weeks; lots of players are picking up cards in anticipation of real-life tournaments opening soon, while others are getting into Remote Duels.
Both types of duelists need cards, and so we're seeing buyers playing catch-up on stuff like Knightmare Phoenix, one of the single most played Link Monsters of all time. Thanks to the Genesis Impact reprint late last year, Knightmare Phoenix is a cheap pick-up for anyone who needs it, and it's been a hot seller since last December.
#9 Heavenly Zephyr - Miradora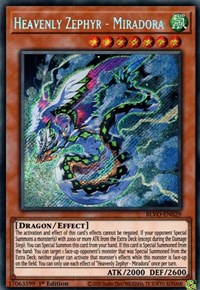 This one's a bit of a surprise! When Heavenly Zephyr - Miradora broke into the Top 10 last week at Number 7, it made sense - Heavenly Zephyr - Miradora an effective new form of Extra Deck hate in a format where the biggest deck-to-beat, Dragon Link, relies entirely on Extra Deck monsters. We'd also seen strong interest in Heavenly Zephyr - Miradora when it first dropped, two months ago in Blazing Vortex. But it wasn't clear if the interest from last week would hold: Heavenly Zephyr - Miradora dipped to an all-time low of $11 two days before the demand spiked, rising to nearly $14.50 went buyers moved on it. Would the demand stay strong at a higher price point?
Well, demand dipped slightly, but it was still high enough to keep Heavenly Zephyr - Miradora at the $14 mark, and in the Top 10 this week. With two weeks of strong sales, this seems less like a flash-in-the-pan, and more like a card you should prepare for.
#8 Harpie's Feather Duster
Harpie's Feather Duster has made the Top 10 almost every week since it was reprinted in Maximum Gold, and the price just slowly goes up every time. It's now roughly 11 dollars, and like Knightmare Phoenix it communicates a healthy interest in cardboard Yu-Gi-Oh.
#7 Pot of Desires
Pot of Desires is the same thing. When a card like this is moving briskly in the TCGplayer Marketplace, it's a strong indicator that more people are interested in playing cardboard Yu-Gi-Oh, either now or in the not-too-distant future. Pot of Prosperity effectively a better version of this card, but that $95 price tag just puts Pot of Prosperity out of reach for many players.
At the same time, there's some strong arguments to be made for running both draw spells anyways; we'll have more on that in a really cool deck building article this Sunday. Don't miss it!
#6 Borrelsword Dragon (Alternate Art)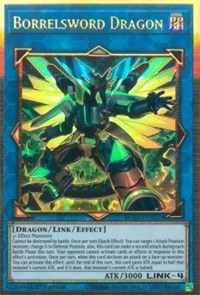 This is almost entirely a function of the continued interest in Dragon Link. Of the six Dragon Link decks we saw qualify for the Remote Duel Invitational this weekend in the Group A and Group B Qualifiers, all six naturally ran Borrelsword Dragon. The one Top 8 Dragon Link from the latest Extravaganza was the same. And while it does see some play in other strategies, that's relatively rare this format: the only immediate example is Ralph Lee's Invoked Mekk-Knight deck from the Group A Qualifier.
Dragon Link took a beating at the Extravaganza as players teched hard for the match-up, but that stumble doesn't appear to have hurt interest in the deck. The surge in demand for Borrelsword Dragon is proof.
#5 Tri-Brigade Fraktall
Tri-Brigades have been hot for weeks now, topping tournament after tournament in hybrid builds incorporating Lyrilusc monsters. The official fact sheet for July's Legendary Duelists: Synchro Storm went out from Konami on Tuesday, calling out Lyriluscs as one of the set's key themes and pointing out their synergy with Tri-Brigades. Combined with Fraktall's recent dip from $20+ to the $16 range, it was a hot pick this week.
#4 Knightmare Unicorn
Up from Number 6 last week, Knightmare Unicorn another flexible staple that lots of competitors are catching up on, just like Knightmare Phoenix. And while the demand here was for the budget rare from Genesis Impact, it's interesting to note the rising value of Knightmare Unicorn (CR).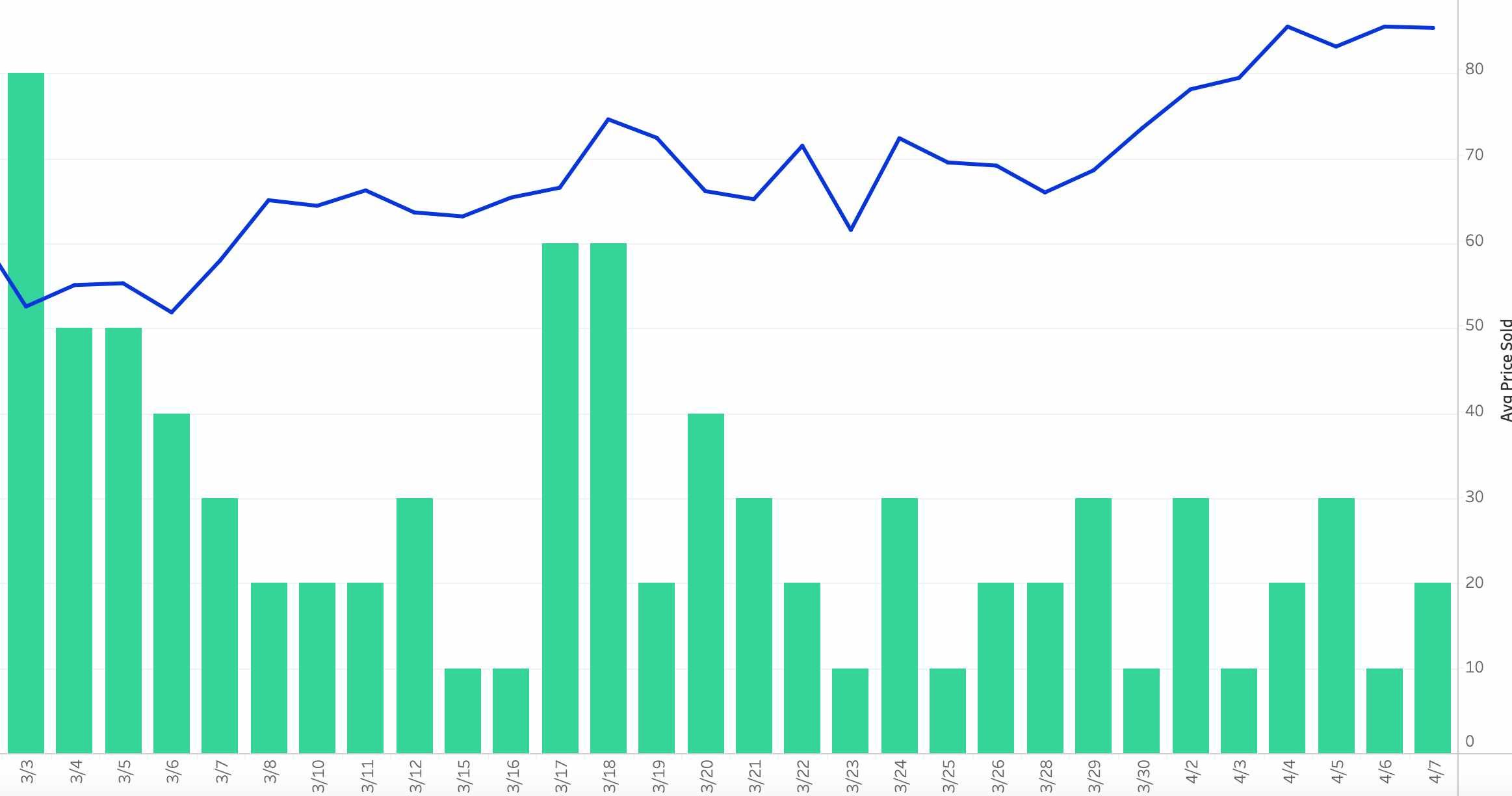 Knightmare Unicorn (CR) was as low as $52 at the beginning of March, but in one month it's climbed to $85. Minus a single sale at $90 back in January, that's an all-time high for this card, and it raises questions about the long term potential for Genesis Impact's Collector's Rares. Were they undervalued? Could some of them still be good buys? Those could prove to be very interesting questions.
#3 Apprentice Illusion Magician
This card hasn't been in the Top 10 for ages, but Loukas's article from Tuesday blew up with a Dark Magician deck list that runs three copies, and demand for Apprentice Illusion Magician spiked in response. The Magical Hero reprint's been on a steady rise since November, going from the 4-dollar range to a current value pushing 8 bucks.
#2 Witch's Strike
Witch's Strike was hot stuff when it arrived in Savage Strike, but interest fell off when players discovered how hard it was to resolve. While Witch's Strike has a very specific activation condition, the bigger problem is speed; setting it and then waiting until your next turn just isn't workable in faster formats, and at the same time it's vulnerable in slower formats where cards like Cosmic Cyclone and Harpie's Feather Duster are more common.
I'm not totally sure why this card went nuts this week, but the demand started to spike on Monday, and Yacine released a video discussing it on the same day, so I'm going to go with that. If you missed it, definitely check it out, because it's a tight 5-minute rundown. Situational or not, Witch's Strike is incredibly dangerous; it has a lot of potential against Drytron, which could make a big return when Lightning Overdrive arrives; and it's solid now, against decks like Subterrors and arguably even Dragon Link.
And it's cheap! Witch's Strike was reprinted last year in the 2020 Mega Pack, and you can still get copies for 2 or 3 dollars. At that price point, it was an easy choice for a huge number of buyers.
#1 PSY-Framegear Gamma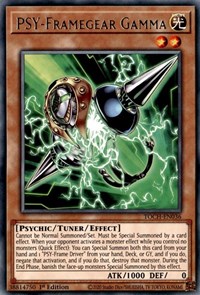 And finally, PSY-Framegear Gamma just can't be stopped. People have been grabbing this by the playset ever since it was reprinted in Toon Chaos, and even though the decklists from the latest Extravaganza showed it trending downward, it's still an absolute powerhouse and easily accessible to players at any budget.
That's it for this week, but stick with us through the weekend for more articles, and join us in seven days when we'll be looking at the Top 10 presale cards from Ghosts From the Past on GFTP launch day!