You know the drill — we're over halfway through October, Halloween is looming, everything smells like pumpkin spice lattes. It's time for some spooky Pokémon. And what better way to honor the Halloween season than with five high-flying (and high-priced) Crobats?
#5 Crobat (Prime)
In terms of gameplay, Heart Gold/Soul Silver Unleashed's Crobat Prime is significantly more powerful than other Crobats. An Ultra Rare, its artwork features a menacing close-up of the bat winged 'mon, surrounded by a holographic border.
#4 Crobat (Neo Revelation)
This Crobat arrived — alongside 13 other Holo Rares — via Neo Revelation in 2001. The third "Neo" set in the series, Neo Revelation remains highly collectible and tricky to track down.
#3 Dark Crobat
The last and largest of the 4 "Neo" sets —as well as the scarcest — Neo Destiny is well-known for introducing Light Pokémon to balance their Dark counterparts. Nevertheless, cards from the set remain wildly popular overall among collectors, including this Holo Rare Dark Crobat.
#2 Crobat (H5)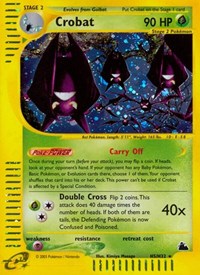 If you've been reading these Top 5 lists for a while, I'm sure you know the drill with Skyridge — it was underprinted, it arrived during a downswing in Poké-popularity, and it was the last of the e-Cards. Doesn't hurt that this Crobat is a Holo Rare to boot.
#1 Crobat (147)
What's even better than a Skyridge e-Reader Holo Rare? Easy — a Skyridge e-Card Secret Rare. Crobat's colorful Crystal Type (a precursor to later Shining Pokémon) also makes this card extremely collectible.