There've been way too many times when my eyes have randomly fixed on something in my house, and I've thought to myself… "Hey… If I sold that, I could have a playset of Urgent Schedule!"
I've never been desperate enough to sell a kidney or anything, but I've always loved the Train deck, and yet I've rarely held onto it because several of the cards were just too pricy. Especially in 2020 when in-person tournaments were slim, I migrated from deck to deck instead of sticking to Trains.
The good news?! With Legendary Duelists: Season 2 arriving this week, we finally have a good excuse to build not just Trains, but plenty of other decks that got much-needed reprints to make them more accessible to the masses!
After all, isn't that all we want?
It's like when someone asked me how to get back into Yu-Gi-Oh when Blackwings were their favorite deck. It wasn't a good feeling, starting my reply with, "Hey, go spend $60 on Blackwing - Simoon the Poison Wind." That's a bitter, feathery pill to swallow. But Trains just went from mega-expensive to budget territory; it's the perfect time to give the deck a shot.
All Aboard The Hype Train?
When you distill the deck down to its fundamentals and remove all the fun add-ons, Trains are a highly explosive deck that churns out Level 10 monsters and Rank 10 Xyz at the drop of a hat. Thanks to Night Express Knight, Heavy Freight Train Derricrane, Super Express Bullet Train, Flying Pegasus Railroad Stampede, and Revolving Switchyard, a bunch of damage via Rank 10s is the go-to play and often lethal.
Field two Level 10 monsters, Xyz Summon Superdreadnought Rail Cannon Gustav Max, burn for 2000, then Xyz Summon Superdreadnought Rail Cannon Juggernaut Liebe on top of it. Make Liebe 6000 ATK and with two attacks, and you see where this is going…
That's what initially drew me to Trains. Well, actually, my favorite Train card is Construction Train Signal Red, but that doesn't fit well with the gammeplan in 2021. But yeah, playing Trains is like having an OTK in your back pocket at virtually any time.
Additionally, Trains are quite recursive and constantly replenish your resources. A single card pays dividends over the turns to come, netting you free and low-cost ways to get back in the fight, for… basically forever? Revolving Switchyard gets a free companion Machine for Link Summons or Xyz Summons every turn you summon a train, and when your hand's dead, it turns lesser cards into the exact train you need.
Furthermore, Super Express Bullet Train and Flying Pegasus Railroad Stampede are quite literally an infinite output of cards. Flying Pegasus Railroad Stampede brings back Super Express Bullet Train from your graveyard, and during the End Phase when Super Express Bullet Train leaves the field, get back [Flying Pegasus Railroad Stampede.
It's one of those surprising things people encounter when they've never played Trains themsellves. "I just… get… free… forever?"
Yu-Gi-Oh! TCG Deck - Loukas's Train Deck by Loukas Peterson
'Loukas's Train Deck' - constructed deck list and prices for the Yu-Gi-Oh! Trading Card Game from TCGplayer Infinite!
Created By: Loukas Peterson
Event:
Rank:
Advanced
Market Price: $170.55
Cards
Going Second? In THIS Economy?!?
There are plenty of decks out there that work better going first or second, but this deck undeniably thrives - and to an extent exists as a meta breaker - solely going second. It actually goes beyond that, and straight up punishes your opponent for having the gall to go first.
Win THIS dice roll, ya jerk.
The main reason to go second is simple, and enough to structure literally the entire deck around it: Urgent Schedule is huge.
For the low cost of - *checks card with a magnifying glass* - "your opponent having more monsters on board than you," you'll get two Machines from your deck. Their effects are negated and you can't attack with non-Machines, but… so? It's literally two free Machines to start your combos, whether through sending specific monsters to the graveyard or actually putting them on board.
While relatively cost effective, all of your combos involve getting big Machines on the board as soon as possible, so Heavy Freight Train Derricrane and Super Express Bullet Train can likewise hit the field.
When I say combos, don't think of something like Dragon Link. It's not an exact science like other combo heavy decks, where you search specific cards in your deck and constantly climb to different Link Monsters in specific sequences of plays. To borrow a phrase, this deck quite literally wins by hitting your opponent with a train. The beauty - and a lot of the fun - lies in its simplicity.
So between the free Special Summons, the Infinitracks throwing more Infinitracks on the board, Urgent Schedule, Shaddoll Fusion, and Revolving Switchyard, you shouldn't have a problem making a field full of heavy hitters that do almost unfathomable damage. Factoring in Superdreadnought Rail Cannon Juggernaut Liebe ATK boost and Ancient Gear Ballista ATK reduction, attacking for 8000 is never a problem, open board or not.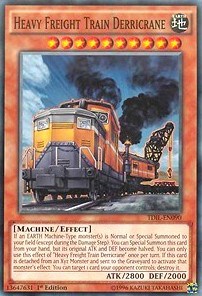 Bury Them! More!
You can't sugarcoat the fact that in 2021, first turns are all about big boards. I mean, I guess Frogs and Altergeists are content to set 900 traps on their first turn, but against combo decks you'll usually be staring down multiple threats and negations. Trains are committed to going second, so cards that deny your opponent's their retort are monumental, and better suited for the strategy than your standard hand trap lineup.
I'm not going to force you to play Lightning Storm, for a few reasons: one, Dark Ruler No More is literally like 4% the price of Lightning Storm; and two, Dark Ruler No More hits multiple monsters, including your opponent's True King of All Calamities.
My favorite combo by far involves Number 77: The Seven Sins. Thanks to Infinitrack Harvester, a Level 2 monster that manipulates other Levels, this particular Rank 12 is lethal with Dark Ruler No More, effectively a better version of Raigeki OR Lightning Storm. And that's just the tip of the iceberg when it comes to punishing your opponent's monsters.
In terms of the ad hoc cards, I found Forbidden Chalice to be the most versatile. You can't use it from your hand like Infinite Impermanence and Ash Blossom & Joyous Spring when your opponent's playing solitaire, but it outshines nearly every other negation card out there for Trains. Blind negation, a counter to True King of All Calamities, negation in the damage step, and a way to boost your monsters ATK in desperation? It's the jack of all trades for Trains.
Shaddoll Fusion the odd "going second" card out here, because it's aggressive, defensive, good for spell and trap removal, a monster negation effect, a recursive threat, and lastly you can use it to trigger Revolving Switchyard on your opponent's turn for more advantage. There really isn't much that it doesn't do, but the Shaddolls you play in the Main Deck are very intentional for those uses. I struggle with deciding which two Shaddolls are best for the strategy… so why not run three to cover all the bases?
Beyond its versatility, keep in mind that El Shaddoll Shekhinaga a Level 10 Earth Machine. Worst case scenario, resolving one puts a Level 10 Machine on board and will net you two additional cards. It's extremely satisfying using Shaddoll Fusion to yard Shaddoll Dragon, pop a spell or trap, link away El Shaddoll Shekhinaga, then use your returned Shaddoll Fusion as fodder for Revolving Switchyarad.
It's hard to describe this deck without being cheeky, because traditionally you'd think Level 10s would be hard to field and or require you to waste cards to play, but it's just not the case because most cards net more cards?
Choo choo, I guess.
While the Battle Phase is a huge reason you favor going second, that sixth card on the draw is pivotal to your success just as often. I know I've praised Urgent Schedule, Shaddoll Fusion, and the revolving door of free cards from Super Express Bullet Train and the like, but having a sixth card is monumental, because you needto break your opponent's board while still having enough resources to field Rank 10s and make your win.
A lot of the aforementioned cards are great when you combine them, and most 2-card and 3-card combos work, but there's no 1-card-fix-all-your-problem-combos in Trains. Thus, a sixth card is a lifesaver.
But Mom, I Don't Want To Go First!
Let's face it, 99 times out of 100, your opponent will choose to go first if they win the dice roll, especially in Game 1. I'd wager that even after your opponent learns you're playing Trains, greed might still make them go first on many occasions.
But inevitably, you will go first; good opponents will force you to play while they get the draw, so you'll have to be prepared for that. It'll happen most frequently in Game 2, but I think you can structure enough of your Main Deck to facilitate Turn 1 plays, instead of relying on your Side Deck to make Turn 1 less painful.
Heck, you may face a mirror match or another going second deck, ya know?
While it's not the most interesting or innovative option, Trains can also tap into the one big annoying card that's literally defining metagames right now, too - True King of All Calamities.
I try to stay away from Red-Eyes Dark Dragoon and True King of All Calamities because they seem like creative cop-outs, but sometimes they really are the best options. I know, I'm being a tad hypocritical with my True King Six Samurai deck from last week , but sometimes those proverbial shortcuts are truly the best way to go.
True King of All Calamities isn't that hard to make in Trains, but it does take some intentional choices - namely, Infinitrack Anchor Drill. There are some other more complicated ways to get to True King of All Calamities via Flying Pegasus Railroad Stampede, but the simplest paath comes from Infinitrack Anchor Drill. Normal Summon it, Special Summon a Level 5 Infinitrack monster, then Infinitrack Anchor Drill makes both of them Level 9.
But that isn't the only big-bad first turn counter in the deck. Some decks literally cannot get over Black Luster Soldier - Soldier of Chaos . And even other decks like Dinosaurs have virtually no options once your Link gains 1500 ATK. For all their straightforward plays and flaws, Trains can and will Special Summon big monsters easily, and if none of your Xyz are good for Turn 1, why not unleash a card that makes lots of strategies quake in their boots?
Honestly, you won't have to worry about going first in most Game 1s. Unless every time you walk into locals and people collectively chant, "Here comes the conductor - choo choo!", I think you'll be fine.
Just remember: beat your opponents before they beat you.
-Loukas Peterson