After three weeks overseas, I am finally back in my own time zone. The trip was a little frustrating at first because I failed to cash at GP Paris and Pro Tour Valencia, but I made up for it at GP Barcelona with a 7th place finish. Barcelona was by far the most fun event of the three, and I'm not only saying that because of our high finish, but actually because GP Barcelona was one of the most fun formats ever created for competitive play!
GP Barcelona was Team Sealed, a format that most players don't get to play very often. Years ago, we had a Team Sealed PTQ format and a Team Rochester Draft Pro Tour to go along with it every year, but those days are long gone. These days, Team Sealed Grand Prix happen about once every few months in various parts of the world, and with them happening so infrequently I decided to write up a little primer to go along with my tournament report.
My teammates for the event were two great guys that I tested with for the past five Pro Tours, Raphael Levy and Jeremy Dezani. A while back, Raph had asked me if I wanted to team with him for this GP. I couldn't have said yes any faster. Raph is not only my good friend, but is also a great and experienced player. He has been playing on the Pro Tour since the beginning and has many, many great results. There was actually no other person that I'd rather team with. Finding a third member was a little trickier. We wanted to find someone that we would get along with and trust, and we had to make sure that egos would not get in the way of making deckbuilding and playing decisions. Raph asked Guillaume Wafo-Tapa at first, but Wafo had already committed to a team already. Jeremy had just won Pro Tour Theros and was on a huge upswing results-wise. We asked him and he was more than happy to be our third.
When finding teammates for Team tournaments, the number one factor is trust. You need to be able to have faith that your teammates will make the correct play. If you need to coach your teammates throughout their entire match, your own play will surely suffer. If you trust your teammates, you won't have to stress out about their games and be able to focus on your own.
Another big thing is to choose teammates that have skill level similar to your own. If you're the best player on your team, you will be the one looking over at the other matches going on. Again, you will not be focused on your own match. Similarly, if you are the "bad" player on the team, you will be under constant pressure to do well for the sake of your teammates. If they are playing their own game, you may want to constantly ask for advice from them. When your teammates are always telling you what to do, your play will suffer as well as theirs. I felt that our team members all had similar skill levels and that gave us a huge advantage when playing out matches. We rarely had to ask for advice from one another and were able to stay focused on our own games.
Raph, Jeremy, and I worked very well together. We knew exactly what we had to do in deckbuilding and in our matches. I don't have our entire cardpool to show you, but here are the decks we played on Day 1:
Raph's Day 1 deck: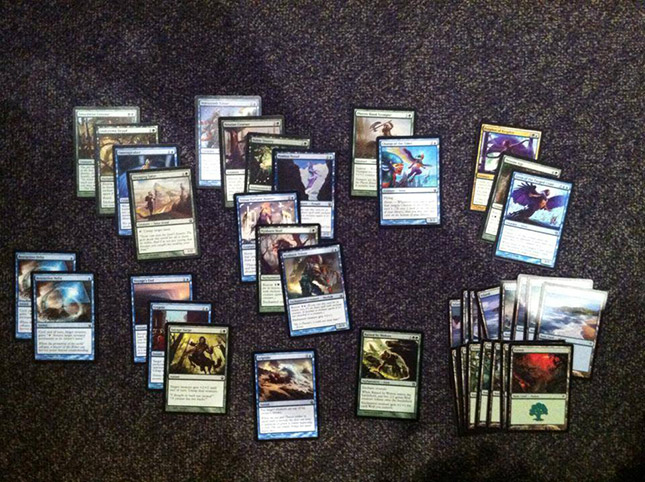 1 Swordwise Centaur 1 Leafcrown Dryad 1 Omenspeaker 1 Voyaging Satyr 1 Wavecrash Triton 1 Nessian Courser 1 Noble Quarry 1 Nimbus Naiad 1 Triton Fortune Hunter 1 Nyxborn Wolf 1 Nyxborn Triton 1 Pheres-Band Tromper 1 Chorus of the Tides 1 Prophet of Kruphix 1 Nessian Asp 1 Archetype of Imagination 2 Retraction Helix 1 Voyage's End 1 Crypsis 1 Savage Surge 1 Griptide 1 Raised by Wolves 9 Island 8 Forest Melissa's Day 1 deck: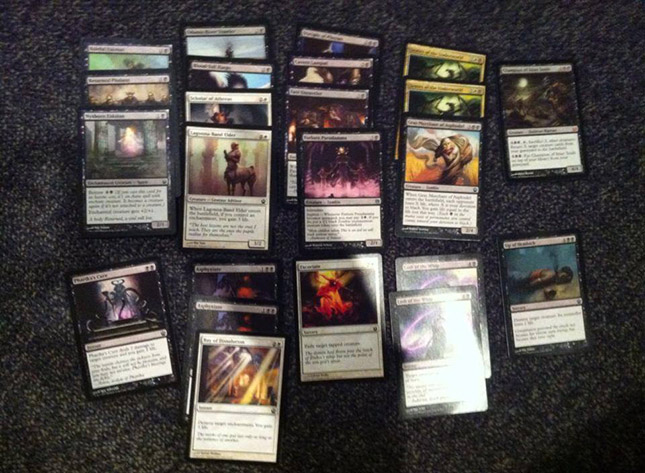 1 Baleful Eidolon 1 Returned Phalanx 1 Nyxborn Eidolon 1 Odunos River Trawler 1 Blood-Toll Harpy 1 Scholar of Athreos 1 Lagonna-Band Elder 1 Disciple of Phenax 1 Cavern Lampad 1 Fate Unraveler 1 Forlorn Pseudamma 2 Sentry of the Underworld 1 Gray Merchant of Asphodel 1 Champion of Stray Souls 1 Pharika's Cure 2 Asphyxiate 1 Ray of Dissolution 1 Excoriate 2 Lash of the Whip 1 Sip of Hemlock 10 Swamp 7 PlainsJeremy's Day 1 deck: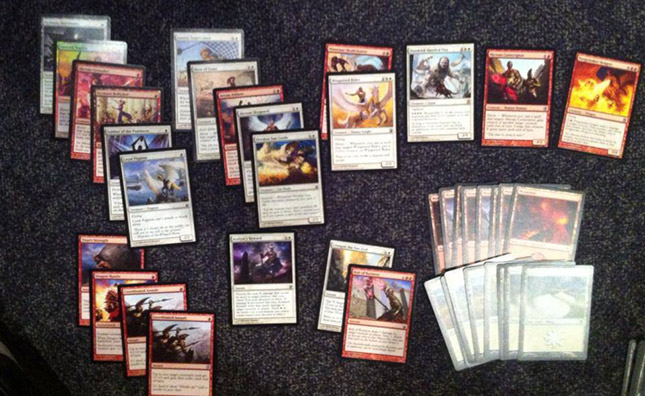 1 Nyxborn Shieldmate 1 Favored Hoplite 1 Akroan Crusader 1 Nyxborn Rollicker 1 Soldier of the Pantheon 1 Loyal Pegasus 1 Leonin Snarecaster 1 Hero of Iroas 1 Arena Athlete 1 Akroan Skyguard 1 Oreskos Sun Guide 1 Minotaur Skullcleaver 1 Wingsteed Rider 1 Hundred-Handed One 1 Akroan Conscriptor 1 Forgestoker Dragon 1 Titan's Strength 1 Dragon Mantle 2 Coordinated Assault 1 Acolyte's Reward 1 Glimpse the Sun God 1 Bolt of Keranos 9 Mountain 8 Plains
One common mistake that teams make in deckbuilding is they take too long to figure out how to evaluate each color. With only one hour to build and register all three decks, you really can't waste any time. Our team had a pretty good process for deckbuilding. For each color, we took out the crap and set it aside, and then we laid out each color and processed what each color's strengths and weaknesses were. Once we knew the overall power level of each color, we had a better idea of what color it could go with.
At first, we had a UW heroic deck featuring Daxos of Meletis and Battlewise Hoplite, and a BR aggro deck with a Mogis, God of Slaughter. Those builds were pretty good, but the green deck would have been terrible had we gone in that direction, so we knew we had to look for other options. In the end, we settled on the Boros aggro, BW control, and UG tempo. It was a shame that we couldn't play the Mogis, easily the best card in our pool, but in the end it is not about the cards, but about the strength of each deck. Two of us out of three had to win our games to win the match, and with one deck being significantly weaker than the others, winning would have been difficult.
We ended up going 7-2 with these decks, with no byes. We lost to Team Owen, Reid, and Huey, who ended up making Top 4 of the tournament. While I had won my match against Huey, Jeremy's aggro deck couldn't beat Reid's BR deck that had every removal spell ever, and Owen's deck was the most absurd heroic deck I'd ever seen with two Eidolon of Countless Battles. Our second loss came in Round 8 and I had an unfortunate matchup against a UB Control deck with double Servant of Tymaret. Those guys were really hard for my deck to deal with and with an Oracle's Insight (my vote for best limited uncommon in Born of the Gods) attached to one of them, the card advantage that my opponent gained was too much for me to keep up with.
On Day 1, I noticed that a lot of teams were discussing plays way more than they should have been. Open communication is allowed of course, but discussing every possible play in the match is usually more hurtful than helpful. First, discussing plays takes up a lot of time off of the clock. You never want to go to time at a Grand Prix, especially on Day 1 because a draw is just as good as a loss. The second and more important reason of the two is every time you talk about a play with your teammate, you are giving away vital information to your opponent.
Here's an example. I draw my opening hand of seven cards, then immediately ask my teammate if I should mulligan. My teammate looks at the hand and cringes. Well, if you do decide to keep, you just told your opponent that you kept a weak hand! This happened to us a lot at the Grand Prix as well. Jeremy, playing the Boros deck, had to mulligan quite a bit and often asked me for mulligan advice. If the hand was an easy mulligan, Of course I would tell him to do so, but if the hand was close, I would say something like, "that's really close, you can keep it if you want." Well, I certainly gave away information about Jeremy's hand when I said that. It was obvious that the hand was missing something. Giving away that information will definitely make the opponent play differently.
This is the reason why our team had a significant advantage at the Grand Prix. For the most part, we just played our games and didn't ask each other for play advice. Raph and I definitely play worse when people are watching us and commenting on our play. I need to focus in order to play well and when I am discussing plays with my teammate, I lose that focus and play much worse. This is where the trust comes in. If you trust your teammates, you won't need to look over at their match and see what they are doing, because you just know that they will play fine without any help.
During Day 2 of the Grand Prix, this actually happened to us. Raph had finished his match early and was watching my game. My board state was very complicated and we were running low on time. Raph and I talked about the potential plays that I could make each turn, and if I didn't agree with what he was telling me, I would tell him my play and why it was better. This was actually the worst possible thing we could do. I ended up going to time in that match, but luckily I was able to win the game in extra turns. Afterwards, Raph and I were talking about what I could have done differently and then said, "I should have just let you play." In the end, I have the most information about the game I'm playing, not Raph. I know what's in my deck, what outs I have, and the order of all of the cards that have been played throughout the game. Raph could suggest a play based on the information that he is looking at, but he didn't watch the entire match and does not know how my opponent plays or the contents of his deck. His play may be correct for what he knows about the game, but incorrect for what I know about the game.
Here's another example that came from one of the later rounds of Day 1. I had just won a really close game against a RG huge creature deck. After the match, Joe Demestrio, who had been watching the game from the start, said to me, "wow, I would have played that game entirely differently. I would have played Revoke Existence on the Nylea's Emissary instead of taking hits from it for a few turns." I told Joe that my opponent played a Xenagos, God of Revels in game one, and if he had ever played that card during that game, I was just dead. He said, "yeah, that made sense, you needed to hold the Revoke for that." If one of my teammates told me to Revoke the Emissary, and I listened to them, I would have lost the match if my opponent drew his Xenagos.
Here are our Day 2 decks:
Raph's Day 2 deck: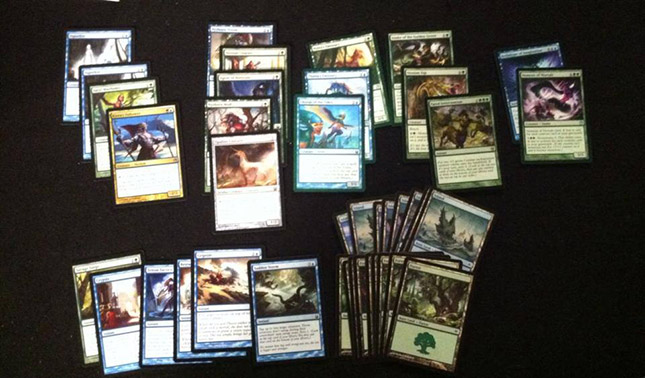 2 Vaporkin 1 Satyr Wayfinder 1 Kiora's Follower 1 Nyxborn Triton 1 Nessian Courser 1 Agent of Horizons 1 Nyxborn Wolf 1 Opaline Unicorn 1 Nylea's Emissary 1 Thassa's Emissary 1 Chorus of the Tides 1 Snake of the Golden Grove 1 Nessian Asp 1 Fated Intervention 1 Archetype of Imagination 1 Nemesis of Mortals 1 Savage Surge 1 Crypsis 1 Triton Tactics 1 Retraction Helix 1 Griptide 1 Sudden Storm 9 Forest 8 IslandMelissa's Day 2 deck: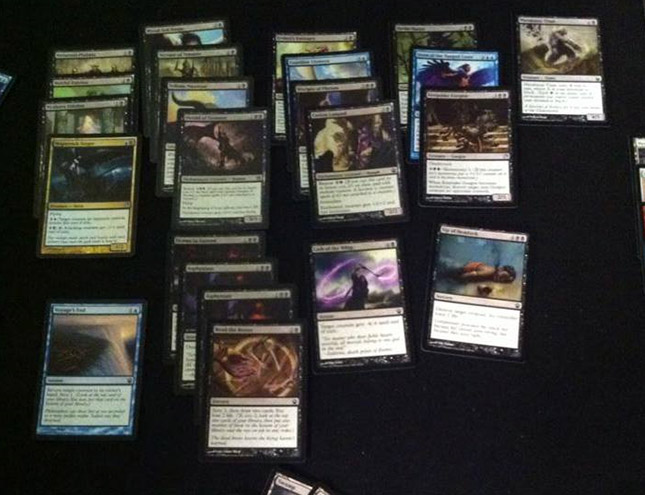 1 Returned Phalanx 1 Baleful Eidolon 1 Nyxborn Eidolon 1 Shipwreck Singer 1 Blood-Toll Harpy 1 Servant of Tymaret 1 Felhide Minotaur 1 Herald of Torment 1 Erebos's Emissary 1 Coastline Chimera 1 Cavern Lampad 1 Disciple of Phenax 1 Shrike Harpy 1 Siren of the Fanged Coast 1 Keepsake Gorgon 1 Marshmist Titan 1 Voyage's End 1 Drown in Sorrow 2 Asphyxiate 1 Read the Bones 1 Lash of the Whip 1 Sip of Hemlock 10 Swamp 7 IslandJeremy's Day 2 deck: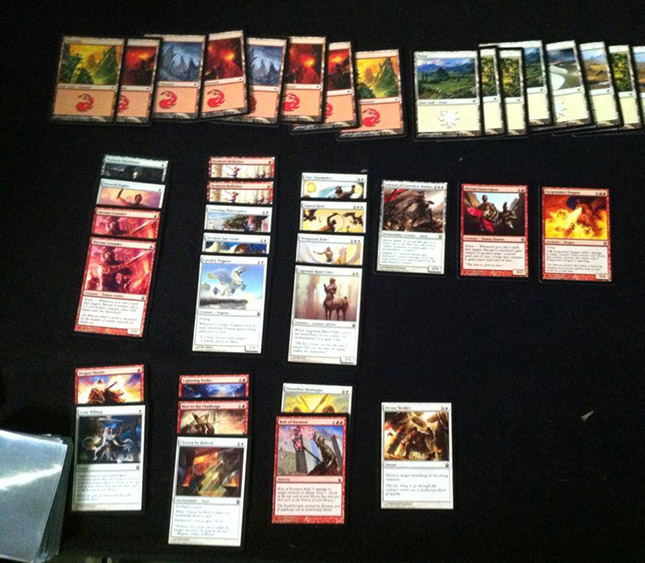 1 Nyxborn Shieldmate 1 Favored Hoplite 2 Akroan Crusader 2 Nyxborn Rollicker 1 Traveling Philosopher 1 Oreskos Sun Guide 1 Cavalry Pegasus 1 Elite Skirmisher 1 Fabled Hero 1 Wingsteed Rider 1 Lagonna-Band Elder 1 Eidolon of Countless Battles 1 Akroan Conscriptor 1 Forgestoker Dragon 1 Dragon Mantle 1 Gods Willing 1 Lightning Strike 1 Rise to the Challenge 1 Chosen by Heliod 1 Dauntless Onslaught 1 Bolt of Keranos 1 Divine Verdict 8 Plains 8 Mountain
Coincidentally, we all played the same types of decks that we played on Day 1. I played the black based control deck, Jeremy played the Boros aggro deck, and Raph played the UG tempo deck. I am fine with playing any type of deck, but this was just how it worked out. This is where knowing the format comes in. We all played practically the same decks the day before so we knew how to build them and what they were missing.
For example, I started out with a BG control deck. Our cardpool had a Pharika's Mender and a Graverobber Spider, and we wanted to take advantage of those cards. However, playing BG meant that the deck would have been really slow. The Returned Phalanx would never be able to attack, and we probably wouldn't be doing much at all before turn four. If I took some of the green two drops and added them to my deck, the UG deck would have been terrible, so that wasn't even an option. I knew that the black deck needed early plays, so I cut the green and added Shipwreck Singer to the deck. The deck looked a lot better with that one minor change. I still felt like the deck was a bit on the slow side, so I also grabbed the Voyage's End from the UG deck. The UG deck didn't actually need the Voyage's End because it already had Griptide, Retraction Helix, and Sudden Storm, and giving the Voyage's End to the black deck made its mana curve much smoother.
The point is that we knew the format pretty well, and we knew how to build each deck. We didn't need to try out every color combination because we already knew what would work and what wouldn't. That saved us a lot of time during deckbuilding.
Our day two decks were also pretty good. Raph's deck was a little weaker than his deck yesterday, but Jeremy's was better. My deck was only slightly better than it was the previous day. It had all of the same removal spells but I had Herald of Torment this time, an amazing rare that won me a lot of games. I knew that Day 2 would be much harder than Day 1, but not by much. Overall the players would be better but they would have the same quality of cards that they had the previous day.
We ended up going 4-1 on Day 2, losing to the eventual winners of the tournament. Losing the second to last round is really rough and the loss was really hard on us. Raph won his match but Jeremy and I lost ours. I felt like I had no chance to win my game three. My opponent had a fast UG deck with huge creatures, and once he started attacking, my Asphyxiates didn't do anything. Even after I had set up a good defense he played a couple of Stratus Walks on his ground guys and the match was over a few turns later.
While making Top 4 would have been awesome, I was really happy with the 7th place finish. Our team worked really well together and our playstyles complemented each other nicely. I'm really proud of my team and we are looking forward to improving our finish at GP Portland in August!
If you want more information on the Team Sealed format, Raphael Levy wrote up an awesome primer on the format here, so be sure to check it out!
Melissa DeToraTeam Revolutionhttp://twitter.com/MelissaDeTora on twitterwww.facebook.com/melissa.detora on Facebook