UPDATE: The Steve Aoki Vault is now open! Enter the vault to browse the rotating selection of graded Pokémon cards and Mystery Boxes.
*****
Steve Aoki's a world-famous performing artist, DJ, and record producer. When you think about some of his biggest collabs, you might think Lil Uzi, Linkin Park, Kid Cudi, or BTS. And now you can add one more name to that list: TCGplayer.
Okay, okay! If you're confused about how TCGplayer fits with a DJ from the EDM scene, that's fair! On a regular week, you're more likely to find a story about Steve Aoki on HYPEBEAST than here on Infinite. He's best known for his music, his record label turned lifestyle company turned apparel brand Dim Mak, and for launching the careers of performers like The Chainsmokers and Bloc Party. Aoki's Hollywood club nights from the 2000s-era are the stuff of Los Angeles legend, too; he's hosted performances by everyone from Daft Punk and Lady Gaga to Diplo and Kanye West, largely before they hit it big.
I know what you're thinking… This has nothing to do with trading card games.
But there's more to Steve Aoki than DJing, producing, fashion, and nightlife culture. He's a multifaceted philanthropist and art collector, working in many different spaces. For example, in 2012 he created THE AOKI FOUNDATION, supporting brain science research with a focus on regenerative medicine. He's got a Netflix documentary, I'll Sleep When I'm Dead, and he's published his own memoir, Blue: The Color of Noise.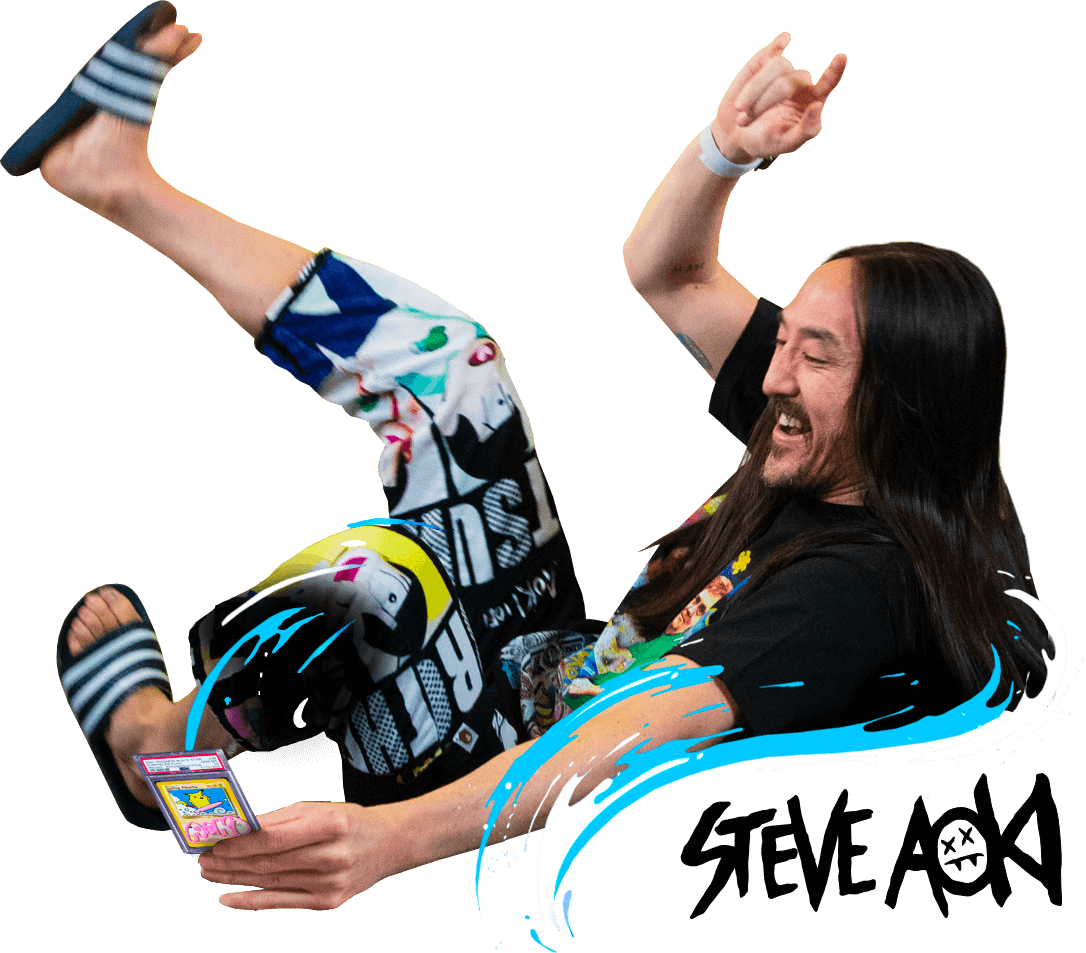 He's also a major supporter of Japanese artwork and contemporary art, and in September Aoki served as the curator for Sotheby's "Contemporary Curated" auction. That event featured art from the likes of KAWS, Basquiat, and Warhol, as well as NFT works from artists like Krista Kim, Kyt, and Raf Grasetti. Proceeds from the sale of those NFTs went to support emerging female NFT artists.
Oh Wait, Here We Go
For me, it was the NFT angle that made this partnership between Steve Aoki and TCGplayer start to make sense. Aoki's a tremendous proponent of NFTs or non-fungible tokens, which are fast emerging as a new class of collectibles unlike anything else. Steve Aoki's a massive collector at heart, and he's actually really involved in the TCG and sportscards space. He's part owner of MetaZoo, which has quickly become one of the hottest new TCGs in existence. He has collaborations with Topps, both for Metazoo and for sportscards. He's also got a massive collection of Pokémon cards and he's worked with some of the biggest personalities in the game.
Steve Aoki's a huge fan of TCGs, as well as a powerful ally for innovators in the world of collectibles. From collecting Pokémon and creating something original with MetaZoo, to exploring revolutionary possibilities with NFTs, Aoki's built a variety of intriguing positions in the hobbyist landscape. And he's always looking to explore new territory.
I think that's what makes TCGplayer x Steve Aoki such a good fit, and the Steve Aoki Vault such a cool project.
Okay, So What's The Steve Aoki Vault?
Steve Aoki has an impressive collection of graded Pokémon cards, and he's partnering with TCGplayer to open it up to the world: bringing to the TCGplayer marketplace a collection of graded and ungraded Pokémon cards and exclusive merchandise worth more than 3 million dollars. As part of the drop, Steve Aoki fans will also have a chance to buy autographed memorabilia, tour-worn clothing, apparel from Aoki's Dim Mak label, sealed Pokémon products, and super-limited run Pokémon statues by Hypnotiq Design.
TCGplayer is opening The Steve Aoki Vault in two big ways, releasing waves of graded Pokémon cards, all individually listed for you to browse, and dropping hand-filled Mystery Boxes with graded Pokémon cards and exclusive items from Steve Aoki's collection of memorabilia. That's where you'll find apparel from Aoki's personal collection, records, tour-worn items, and custom products created by Steve Aoki and his team.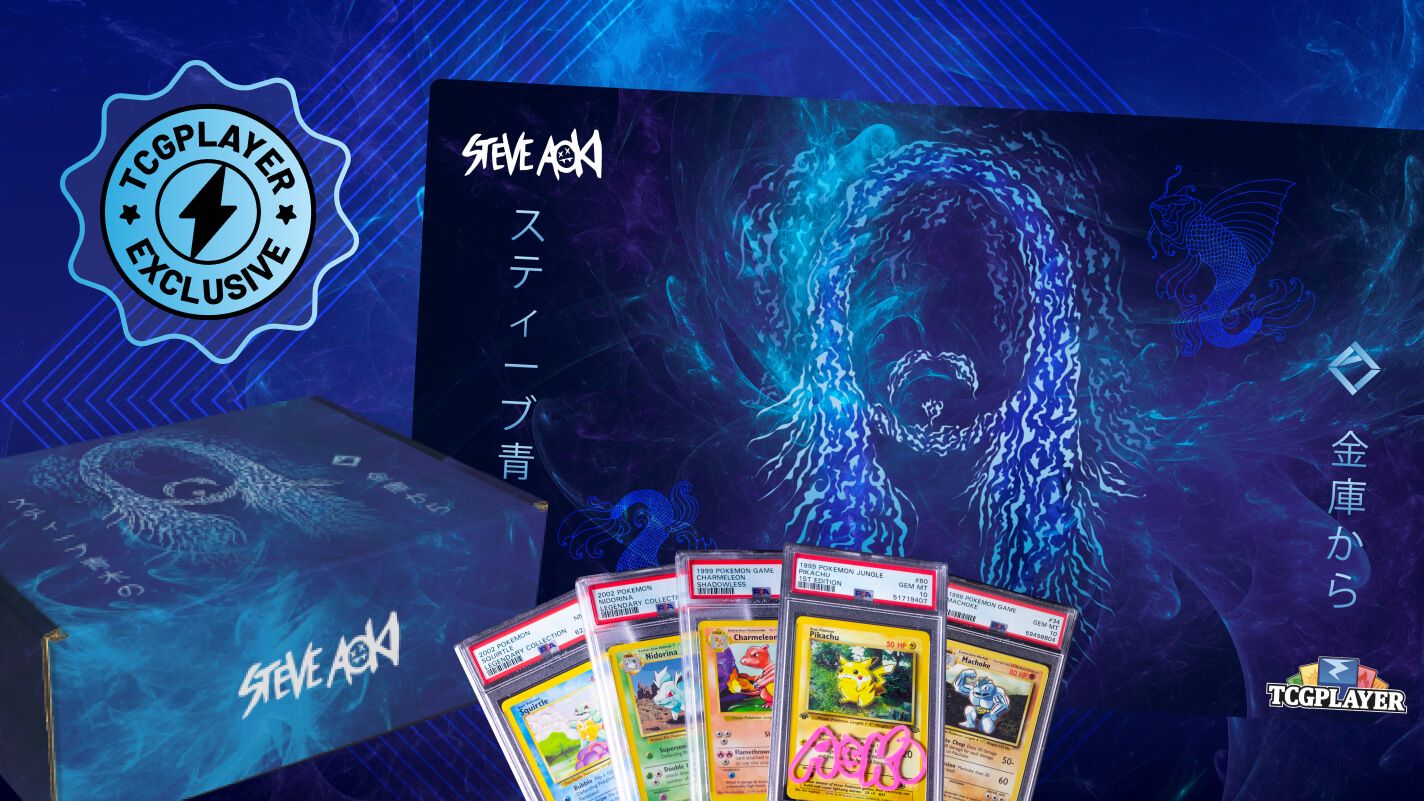 There are three tiers of Mystery Boxes, and they're extremely limited in supply. A total of 10 Diamond Vault Mystery Boxes will be available each week, for $555 each. One step up, eight Gold Vault Mystery Boxes will be offered every week for $888. And finally at the highest tier, five Magma Vault Mystery Boxes will be up for grabs each week at a price of $1212. Every Mystery Box from all three tiers will include an exclusive limited edition Steve Aoki playmat, and an exclusive, intricately designed TCGplayer Collector's Box.
If you're a fan there's never been an opportunity like this. Some Mystery Boxes will include invitations for video calls with Aoki himself, and two Mystery Boxes will contain a once-in-a-lifetime experience: tickets to attend a live show in Las Vegas, and an in-person meet-and-greet with Steve Aoki, with airfare and hotels included.
There are a limited number of graded cards and Mystery Boxes each week: previews will start on Mondays and releases will go live on Tuesdays. From there, everything for the week will last until it sells out. Then the cycle begins again the next week. Items from Wave One will appear from November 3 to December 17 (except for the week of November 29).
Steve Aoki x TCGplayer. Not as crazy as it sounds, right? It all kicks off November 3. Don't miss out!
4d369dc2-6dc7-45f2-a280-3ab8205d972f