Hey there, duelists! I'm back this week to discuss what's become a hot-button topic over the course of the last few years.
Historically, we've always accepted that playing as few cards as possible was correct. The competitive consensus was that a smaller deck maximized consistency. The fewer cards in your deck, the higher the chances of seeing your best cards; the ones that can decide games, matches, or even tournaments. Patrick Hoban famously played "37-card decks" until Upstart Goblin was finally Limited in 2016.
The math on it's pretty simple: if you played the minimum 40 cards and you wanted to see a specific 3-of in your opening five, you'd only open with that card in 33.8% of your games. But if you cut down to 37 cards with Upstart Goblin, you raise your chances to 36.2%. While that may not seem like a large number, think of it like this: when you convert the percentages into numbers, you'll see that key 3-of in 36 games as opposed to 34. That benefit is multiplied across all the cards you'd want to open with, and most decks are running more than just three highly powerful cards.
In the average YCS you'll play 10 to 12 Rounds of Swiss competition. For the sake of argument let's say you went to Game 3 in every match. That means before you even get to the playoff rounds, you'll have played 36 games. With those kinds of numbers, you might see that clutch card in an additional game that you wouldn't have otherwise.
You've probably seen mentions of the math behind deck building in many articles from myself and Johnny, and that's on purpose. Deck building is based on statistical data, which can then be applied repeatedly in wealth of scenarios.
The Advantages Of 60 Cards
So what about larger deck counts? We've seen plenty of top players actually invert the minimum card "rule" and win a lot of success in the process. Why would someone choose to do that? There are actually several reasons to play a bigger deck, all of which are backed up by statistics and math-driven reasoning. But right off the bat, playing a higher deck count lets you fit a higher number of "desirable" cards into your list, while also lowering the chances of seeing undesirable cards; chiefly the engine requirements that see play only because they're need for the resolution of powerful cards. This concept of desirable cards versus undesirable cards is referred to as deck density.
For example, back when Brilliant Fusion was played at 3, you'd open with Gem-Knight Garnet in 12.5% of your games. That translates to seeing the card 12.5 times in 100 games, or 6.25 in 50 to reduce it to a slightly more useful number. Using the example above, that means you could reasonably expect to draw that Gem-Knight Garnet several times in your Swiss rounds as you were trying to grind your way to top cut. But if you played 60 cards, those percentages drop to 8.3%, or 8 in 100 games (just 4 in 50 games).
What that means, is that you'll see that same engine requirement in roughly 2 fewer games in a long tournament. While that doesn't seem like a big difference, it can make or break your tournament life. But what about other percentages? Let's take a look at the Main Deck of a Dragon Link build I've been playing recently, which I worked on with my close friend Mike Thomas. It's 60 cards, and I'm going to break it down by using the contemporary card roles explained by fellow TCGplayer writer Johnny Li.
Starter Cards: 21
3 Starliege Seyfert
3 Black Metal Dragon
3 Rokket Tracer
3 Dragon Shrine
3 Chaos Space
3 Quick Launch
1 Foolish Burial
1 One for One
1 Dragon Ravine

Extenders: 20
3 World Legacy Guardragon
3 Noctovision Dragon
1 Boot Sector Launch
1 Monster Reborn
1 White Rose Dragon
1 Red Rose Dragon
1 Supreme King Dragon Darkwurm
1 White Dragon Wyverburster
1 Black Dragon Collapserpent
1 Rokket Synchron
1 Magnarokket Dragon
1 Absorouter Dragon
1 Dragunity Phalanx
1 Dragunity Divine Lance
1 Omni Dragon Brotaur
Bombs: 2
1 Red-Eyes Darkness Metal Dragon
1 Chaos Dragon Levianeer

Defense: 15
3 PSY-Framegear Gamma
3 Ash Blossom & Joyous Spring
3 Ghost Ogre & Snow Rabbit
3 Nibiru The Primal Being
3 Infinite Impermanence

Floodgates: 1
1 Dragon Buster Destruction Sword

Engine Requirements: 1
1 PSY-Frame Driver
There's a lot to unpack here, and it might look like a big messy pile of cards that kind of just happen to work together. I promise it's a lot more than that; this deck was built with some very specific rules in mind.
So first up your have the starter cards, 21 of them total. That's important because as Johnny stated, you generally want between 11 and 13 starters in a 40-card deck. If you play 13, that gives you a starter card in 86% of your opening hands. In this build, with 60 cards, you can see I chose to play 21 starters, which gives me a similar 89.4% chance to open with 1 of them in my first 5 draws. That means that as the Dragon player you'll actually see a starter card slightly more than you would in a conventionally built 40-card counterpart.
The same is true for the extender lineup. Johnny mentioned playing 12 to 14 extenders as the ideal curve in 40 cards. If you play 14, you'll open with an extender in 90% of your games. In this 60-card deck, you can see there are 20 extenders giving you an 88% chance to see 1 in your opening hand. It's slightly less consistent, but it's such a marginal difference it really doesn't matter. The draw odds here are largely the same.
Even the defensive card lineup is bolstered by the higher deck count, as counter intuitive as that might seem. Johnny advocated for Main Decking 5 to 6 defensive cards in 40, which gives you a 57.7% chance to see 1 when you're going first. By playing 15 defensive cards in a total of 60, you'll see exactly 1 defensive card in your opening hand in 77.6% of your games, and you'll see any 2 of them in 36.7% of your games.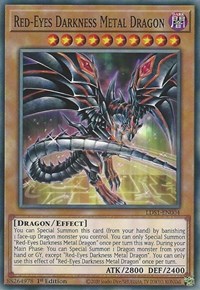 Discussing Deck Density
That idea of "deck density" deserves a little more attention; it's a term many of you may not be familiar with. For the sake of the discussion presented today, deck density refers to the size of the deck, and the concentration of cards as a result. The smaller the deck, the denser you can expect your draws to be.
By decreasing the deck's density – increasing its size over 40 – you can lower the percentage chance of seeing poor draws and unfavorable combinations of cards. Take the deck I showed you above: there are very few combinations of cards that are truly awful. Something like Red-Eyes Darkness Metal Dragon, coupled with no normal summons or a hand of similarly low ceilings is about it. By increasing the deck count to 60 cards you can greatly reduce the odds of seeing those poor draws, while maintaining the chance to open with various good combinations of starter and extenders.
It's important to note that this principle is often shown by duelist extraordinaire Jesse Kotton, as his decks have famously towered over the 40-card minimum quite often in the past. The exception to this, however, is just as important to note.
When To Play The Minimum
After reading the previous paragraphs, it might be tempting to slap together 60 cards and have your deck be all gas. There are certainly many times where sticking to the 40-card minimum isn't always correct, but I wouldn't recommend just going all in on 60 cards all the time.
Certain decks, and even certain formats, have heavily favored playing as few cards as possible. Take Lunalight Orcust: that deck won by seeing a very small number of high impact cards as frequently as possible. You wouldn't want to play more than 40 cards if you could, because a small handful of them were just so powerful. Using Jesse's deck from the UDS Invitational held in October of last year as an example, he took it to the extreme. He played a heavy Danger lineup, as well as Into the Void, Upstart Goblin, and even Card Destruction to quickly rip through his deck and see those extremely important cards.
Yu-Gi-Oh! TCG Deck - Lunalight Orcusts by Jesse Kotton
'Lunalight Orcusts' - constructed deck list and prices for the Yu-Gi-Oh! Trading Card Game from TCGplayer Infinite!
Created By: Jesse Kotton
Event: UDS Invitational - 2019-10-20 Panama City
Rank: 1st
Advanced
Market Price: $149.87
Cards
I'd argue that the current format favors more dense deck building. The decks themselves may be able to play with almost any combination of cards, but interestingly the reason to play a lower deck count is to ensure you see those key defensive cards more consistently.
My list I showed you above plays a high number of defensive cards, and while I can see them often, there's no guarantee they're the most impactful cards in my deck. Currently, PSY-Framegear Gamma and Nibiru, the Primal Being are the two most impactful hand traps being played, given the way the format has developed. For that reason, I think a smaller deck – and thus smaller defensive lineup – may be better than wider lineup.
Wrapping Up
There may never be a solid "this is always the correct number to play" answer for you, and that's okay! Deck building is a constantly evolving and ever-changing art form. A lot of number crunching goes into serious deck building, and as the game gets updated year over year, player perspectives on what's "correct" are being constantly updated too. Ten years ago, Upstart Goblin was almost never used, and now it's understood as one of the best cards in the game.
If you have any questions feel free to Tweet me, and if you want some help on a deck email it over to me at YGOinfinitedoctor@gmail.com, along with a description of the deck, its win condition, and whatever other information you think I might need! Until next time.
-Zachariah J Butler