We've finally seen the entire set list for the 2020 Tin of Lost Memories, and oh boy, it's a doozy. Just a couple weeks ago I wrote an article on reprints we needed that were holding back rogue decks, and luckily for budget duelists, some of the most important cards on that list are back in the new tin!
The annual Mega Pack is historically one of the most coveted sets of the year, since it gives players everywhere another chance at powerful cards that have spent months defining competition. The Mega Pack reprints always reduce prices for at least some big cards on the secondary market, giving everyone's wallets a chance to breathe a collective sigh of relief.
2019 saw a huge change to the Mega Pack as we knew it: it re-introduced Prismatic Secret Rarers to the card pool, a rarity we hadn't seen for over a decade, and it changed the rarities of the cards it reprinted. Suddenly Borrelsword Dragon was a far more obtainable Ultra Rare, as opposed to an extremely pricy and sought-after Secret Rare. That's great for two key reasons: having another rarity means there's a clear difference between the original print and the reprint, making it easier for collectors and rare hunters to differentiate between the two; it also gave budget players an even cheaper reprint, since the rarity is lower and in most cases easier to open.
Hopefully, this year's tins will also follow that pattern, giving us much easier access to cards such as...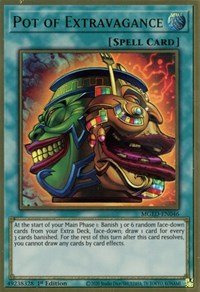 Pot Of Extravagance
Despite a reprint in Toon Chaos back in June, Pot of Extravagance was sitting at more than $40 until the Tin of Lost Memories reprint was officially announced. A key card for many rogue strategies that don't rely on their Extra Deck, Pot of Extravagance lets you draw two cards Pot of Desires, making it appealing to many players.
The sheer cost of Pot of Extravagance was holding back a lot of decks that would've been budget-friendly otherwise, stuff like the Subterror Guru control deck and Dinosaur combo builds; decks that rely on the additional draw power of Pot of Extravagance to keep up with bigger strategies. The demand for Pot of Extravagance as an enabler for so many different decks, combined with its scarcity, meant it fetched a premium ever since its release.
For example, check out this Guru control list: outside of Pot Of Extravagance it's really cheap.
Yu-Gi-Oh! TCG Deck - Zach's Subterror Deck by Zachariah Butler
'Zach's Subterror Deck' - constructed deck list and prices for the Yu-Gi-Oh! Trading Card Game from TCGplayer Infinite!
Created By: Zachariah Butler
Event:
Rank:
Advanced
Market Price: $186.00
Cards
While it's not flashy, the Guru control deck is solid and extremely affordale. Outside of the playset of Extravagance, the most expensive card in the main deck is The Hidden City and the Pot of Extravagance reprint should be a huge help; in the past eight days it's dropped from $52 to a current price of $23 as of this writing, and the tin's still a week and a half away.
Your basic game plan is to use the flip effect of Subterror Guru to search copies of Subterror Fiendess and negate your opponent's effects, using your pile of trap cards to slow the game and grind out wins. It's not the most powerful strategy going, but it's a great way to really learn how to maximize your resources, and it teaches you how to make the most of every card you have. If Pot of Extravagance continues to drop it'll also become a great choice for budget players who want to compete as tournaments reopen.
If you can resolve The Hidden City and Subterror Guru, you're golden. You'd be amazed how many times simply using Subterror Guru to flip a monster face-down is enough to cripple your opponent's turn when you time it correctly. If you're tired of memorizing combo plays, or tired of watching your opponent make combo plays, give It a whirl!
Going from the calm to the crazy, the tin's also reprinting...
Apollousa, Bow Of The Goddess
Color me surprised to see Apollousa, Bow of the Goddess getting a reprint in the 2020 Tin of Lost Memories; it was already confirmed for another reprint featuring alternate art in the Maximum Gold set in October. A lynchpin in many rogue strategies, Apollousa, Bow of the Goddess counteracts hand traps and is especially good at working around Nibiru, the Primal Being. It'll be a boon to players everywhere to see a cheaper, more wallet-friendly version hitting stores soon.
From Pendulums, to Goukis, to Adamancipators, to Dragon Link, Apollousa, Bow of the Goddess played in basically every combo deck as a convenient way to disregard hand traps and Nibiru, the Primal Being. One of the flagship cards of competitive play since it was released in Rising Rampage, it'll be nice to see this card in the hands of players who can't spend so much on a single card . If you've been competitive at all this year, you've probably seen at least one Apollousa, Bow of the Goddess dropped onto the field, and then seen the opposing player stare at their grip full of hand traps weeping as their hopes and dreams implode like a dying star.
Budget players needed this, and now it won't be a massive blocker keeping players out of competition.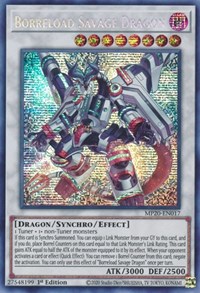 Borreload Savage Dragon
There isn't much I can say about Borreload Savage Dragon that I haven't said already. It's just that good.
Negating anything short of a Counter Trap, while also being an easy summon thanks to Crystron Halqifibrax and friends, Borreload Savage Dragon's poised to be one of the hottest reprints of the year. After the tins drop you should own it. That's where we're at as a society, Borreload Savage Dragon is just that darn good. From Dragon Link, to Eldlich and every other deck that does almost anything, it'll see even more table time than it does now, which is already a lot.
Oftenn played alongside Apollousa, Bow of the Goddess, Borreload Savage Dragon's usually the end piece of a lot of combos; check out essentially every single combo deck in the game currently and you'll likely see this big, bad, Dragon in the Extra Deck. It'll be great to see it become cheaper, and hopefully we can get another reprint for it again in Maximum Gold. Driving down the price of boss monsters like this is a great way to sell product to both casual, and extremely competitive players alike, and it keeps the game accessible.
I:P Masquerena
The final big reprint I wanted to mention is I:P Masquerena. First seen in the Orcust strategies of old, it's become a fantastic way to ensure that you can field another form of interruption on your opponent's turn, while also giving the monster you summon a boost in toughness by protecting it from card effects that would destroy it.
Combined with ideal Link arrows and even a convenient typing as a Cyberse monster, you're looking at a reprint that will have a big ripple effect on the game for the foreseeable future. Trying to find a single deck to highlight I:P Masquerena in is harder than you might expect, much like Apollousa, Bow of the Goddess and Borreload Savage Dragon. It's just great in a lot of decks. But take my Pendulum Magician deck as an example: it's easily updated with all three of these three key reprints.
Yu-Gi-Oh! TCG Deck - Zach's Pendulum Magicians by Zachariah Butler
'Zach's Pendulum Magicians' - constructed deck list and prices for the Yu-Gi-Oh! Trading Card Game from TCGplayer Infinite!
Created By: Zachariah Butler
Event:
Rank:
Advanced
Market Price: $159.50
Cards
This deck may not be the most strictly competitive in the current format, due to the heavy use of hand traps to disable opposing plays, but you can definitely be successful with it. Like my previous article, the plan is the same: make a field of multiple negations and interruptions, and overwhelm your opponent. But this time around the deck gets a big power boost with the new additions to the Extra Deck.
It'll be interesting to see what other strategies are boosted and more successful now that three of the most important Extra Deck cards are going to be reprinted. The options are there, and I imagine that once the tins hit stores and tournaments start up again it'll be a great time for rogue players and budget duelists. Not only are we getting some great reprints, we're starting to see those reprints happening twice in quick succession, which should help keep speculation in line.
What reprints are you excited for? Personally, I want to see the Guardragon Links get a much-deserved rarity boost, and I'm happy the Witchcrafter cards are getting another run. Let me know what you're excited for over on Twitter and I'll see you next time.
-Zachariah J Butler