Last time we covered the original King of Games, so today we'll look at his first known successor; the Master of Faster, the King of New Domino City from Yu-Gi-Oh! 5D's, Jack Atlas!
After he betrayed Yusei Fudo in Satellite for the promise of power, Jack used his Red Dragon Archfiend to go undefeated as the reigning King of New Domino City for two years…or so he thought.
In reality, at least one of his opponents was actually paid to lose to him; Dragan, a duelist who desperately need money to help his injured father, was paid off by Lazar, vice-director of New Domino's Sector Security, to throw his duel to Jack. That proved to be a huge burden on both Jack and Dragan once the truth came out, but luckily they got a proper rematch in the World Racing Grand Prix.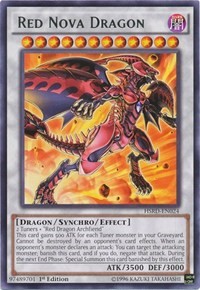 Fortunately for Jack, he'd acquired a power called "Blazing Soul" on a trip to South America, where the strongest Earthbound Immortal, Red Nova, had lured him to serve as a sacrifice. Blazing Soul let Jack seal the strength of Red Nova and combine it with Red Dragon Archfiend to create Red Nova Dragon.
Jack would eventually learn to streamline the summoning of both Red Dragon Archfiend and Red Nova Dragon, so today's deck will take the next step in evolving Red Dragon Archfiend with the help of four cards from Eternity Code and the newest evolution of Jack's very soul: Red Supernova Dragon.
Packing similar effects to the original, Red Supernova Dragon gains ATK for every Tuner in your Graveyard; it can't be destroyed by effects, and if your opponent's monsters try to raise a hand against it, it burns all their cards to another dimension before returning at the end of your turn!
Yu-Gi-Oh! TCG Deck - Jack Atlas's Red Supernova Deck by Samuel Frew
'Jack Atlas's Red Supernova Deck' - constructed deck list and prices for the Yu-Gi-Oh! Trading Card Game from TCGplayer Infinite!
Created By: Samuel Frew
Event:
Rank:
Advanced
Market Price: $114.42
Cards
Your first step is summoning one of the base Red Dragon Archfiend, and this deck runs two Red Dragon Archfiend, plus Scarlight Red Dragon Archfiend which can stand in for the original. You'll need them for some of the support cards. You've also got Jack's ace monster from the Yu-Gi-Oh! 5D's manga: Hot Red Dragon Archfiend, the Attack Position punisher that complements Red Dragon Archfiend's anti-defense powers.
To get to one of these Red Dragons you'll need a Tuner and a non-Tuner with Levels that total 8. Traditionally, Jack used Vice Dragon and Dark Resonator to get to Red Dragon Archfiend, but he's got some neat toys from his manga and ARC-V runs that make it a bit easier.
Red Resonator and Red Sprinter both Special Summon a monster from your hand when they're Normal or Special Summoned; Crimson Resonator and Wandering King Wildwind can both Special Summon themselves, too. With that combination you can Synchro Summon the Level 6 Red Rising Dragon and use its effect to revive the Resonator you used to bring it out, then Synchro Summon one of the Red Dragon Archfiend. Your six spells can search any of these combo pieces and provide some consistency.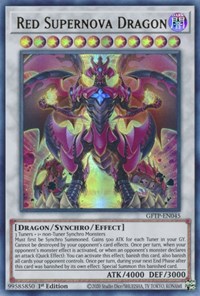 Once you have a Red Dragon Archfiend out your goal is to bring out one of four monsters, though obviously out of the four, Red Supernova Dragon is the one you want to aim for. In order to Synchro Summon him, you'll need to Triple Tune a Synchro Monster, so that's why you have three Crimson Resonator ready to go. Crimson Resonator Level 2, so you'll need a good selection of Level 1 Resonators to match.
Two Chain Resonators are ideal, as their effects aid in Double Tuning for your other powerful Red Dragons. Synkron Resonator and Mirror Resonator are perfect, since they Special Summon themselves. We'll also include a Double Resonator for its handy effect to treat a non-Tuner monster as a Tuner, just in case you have a spare monster floating around.
You can't always summon an evolved Red Dragon in one turn, but you can rely on some of Jack's better defensive cards to hold out. Fiendish Chain was a competitive staple for years, and it was actually debuted by the Master of Faster himself, while Battle Fader can block an attack and save you for a turn, then become Synchro Material later, making ideal targets for Double Resonator.
Red Cocoon adds some extra power to a Red Dragon, and Eternity Code's Red Reign recreates the effect of Red Supernova Dragon without making you wait for your opponent. Then it grants your strongest monster immunity to card effects for the rest of the turn.
Once Red Supernova Dragon is out it'll probably have at least 5000 ATK depending on the number of Tuners in your Graveyard. Jack's other evolved Red Dragons pack a punch too; from the Yu-Gi-Oh! 5D's manga, Hot Red Dragon Archfiend Abyss has a powerful Quick Effect to negate the effect of any card on the field, while Hot Red Dragon Archfiend Bane provides flexibility, bringing out the Red Dragon you need.
Hot Red Dragon Archfiend King Calamity doesn't gain attack, but it makes up for that with sheer unstoppable force, locking your opponent out of moves and damaging them with their destroyed monsters' ATK. Meanwhile from Yu-Gi-Oh! ARC-V Tyrant Red Dragon Archfiend is trickier to Synchro Summon, as it's Level 10 and needs Double Tuning, but it can destroy every other card on the field.
It took a long time to get Red Supernova Dragon in the TCG, but now that it's here we can finally use the support cards in Eternity Code to build a really cool deck! Give it a shot, and try it out against other character builds as we post more Yu-Gi-Oh! Episode Decks.