This week we're looking at deck for the creator of Duel Monsters himself, Maximillion Pegasus!
While Pegasus was eccentric and often childish, he was also the holder of the Millennium Eye and a deadly Shadow Duelist. That duality was reflected in the cards he designed, largely his Toon monsters: Toon cards are cartoonish and silly, but they were also exceptionally dangerous.
There really isn't anything quite like the Toons; in the anime and manga they were simply monsters made indestructible with Toon World (and in Pegasus's own words, more cuddly). In real-life Yu-Gi-Oh Toon World isn't nearly as impressive, and Toon monsters are just unique cards; they aren't indestructible, but you can Special Summon them instead of Normal Summoning them. Unfortunately the older Toons had lots of restrictions: they couldn't attack the turn they were summoned, they required a Life Point payment to attack, and they were destroyed if Toon World bit the dust.
Toons got a bit more powerful when Pegasus made a surprise appearance in Yu-Gi-Oh! GX, Dueling Dr. Crowler and Professor Bonaparte to test them for a new job (it's a long and very silly mix-up). Since then we've seen the introduction of the Field Spell Toon Kingdom, as well as new Toon monsters with fewer restrrictions, including an excellent batch of support from last year's Toon Chaos.
Today's deck goes all in on Toons, while also tapping into the sinister Relinquished cards that served as Pegasus' more serious ace monsters. While Pegasus might've only played one of each card, we'll optimize for real-world play, so you can pit this build against the other Yu-Gi-Oh Episode Decks you've seen so far.
Yu-Gi-Oh! TCG Deck - Pegasus's Toon Kingdom Deck by Samuel Frew
'Pegasus's Toon Kingdom Deck' - constructed deck list and prices for the Yu-Gi-Oh! Trading Card Game from TCGplayer Infinite!
Created By: Samuel Frew
Event:
Rank: 0-0
Advanced
Market Price: $330.40
Cards
By now you may have gathered that Toons need Toon World or Toon Kingdom to work. Toon Kingdom the best of the two, but you need to at least see one of the two cards in your opening hand. Fortunately, Toons have some excellent search cards.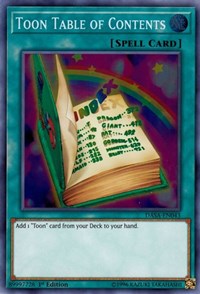 Toon Table of Contents and Toon Bookmark do nicely; Toon Bookmark searches any card that mentions Toon World in its text, and since Toon Kingdom a Field Spell you can search it with Terraforming. That effectively brings this deck up to thirteen copies of Toon World, so it's extremely likely you'll open with it!
With Toon World or Toon Kingdom on the field, you can start assembling attackers. Most Toons need to wait a turn before attacking, but Toon Dark Magician Girl and Toon Black Luster Soldier are the exceptions; Toon Black Luster Soldier inherits the powerful effects of the original Black Luster Soldier - Envoy of the Beginning, and both can Special Summon themselves.
Red-Eyes Toon Dragon and Toon Dark Magician can spring either of them from your hand or Deck respectively and benefit from the perks of their original forms; The Black Stone of Legend can Special Summon Red-Eyes Toon Dragon straight from your deck. Normal Summoning it won't conflict with most of your Toon cards, as most of them can be Special Summoned anyways.
For defense, Pegasus generally relied on his Toons' invincibility or read his opponent's minds to outplay them. Barring Golden-Eyes Idol, which just dropped in King's Court yesterday, you can't really rely on mind reading!
This deck takes another page out of Pegasus' later years instead, and uses some of the more powerful Toon traps; you can search them with your consistency cards or Toon Dark Magician if you wind up with extra cards in your hand. Toon Briefcase is an extremely potent and simple summon counter, while Toon Terror is an excellent negation card.
It would be great to include the entire Reliquished package in this deck, but with more and more support over the years they've become complicated enough for their own entire deck. No worries though, we can still play a few.
You can Fusion Summon Thousand-Eyes Restrict and Millennium-Eyes Restrict with Instant Fusion to steal an opposing monster, and then turn them into Relinquished Anima to take another monster. You can use a spare copy of The Black Stone of Legend to make Relinquished Anima, too.
Number 82: Heartlandraco and Number 52: Diamond Crab King might seem like odd choices, but they're here for fan flavor: in the Yu-Gi-Oh! ZEXAL manga, Mr. Heartland used Heart monsters that functioned like Toons, and those were the Numbers he used, so we're running them here!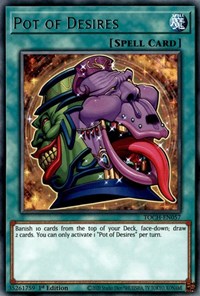 With a slim Extra Deck, Toons are perfect to run the package of Pot of Prosperity and Pot of Desires but you don't have to splurge for those to play these cards. With wacky and powerful effects, you'll either rampage over your opponent, or at least get an amusing reaction!