Kia ora everyone! For this year's Halloween, we'll be covering the creepy Occult Deck used by Yami Bakura in the original Yu-Gi-Oh! series!
Yami Bakura always took an unusual stance on dueling, generally preferring to let his opponent ebb slowly away rather than attacking them, and his Occult deck from the Battle City tournament was no exception. Initially, he barely seemed to know how to play — that is, until he summoned the powerful Dark Necrofear. But when Yugi destroyed it, he unleashed the spirit of its marionette to haunt the field through Dark Sanctuary, while Dark Necrofear herself operated the Destiny Board to spell out a final message from the afterlife.
All the while, Yami Bakura used every other card in his deck to mess with his opponent and make it that much more difficult to defeat him. Egyptian God cards were typically required to take him down, and even then, he was rarely out of the picture for long.
Today's episode deck aims to recreate the strategy Yami Bakura set up against Yami Yugi in Battle City. That includes spelling out the final message of Destiny Board, haunting the field with Dark Sanctuary, limiting your opponent's attacks with The Dark Door, and accelerating this dark magic with new cards introduced in Legendary Duelists: Immortal Destiny.
Yu-Gi-Oh! TCG Deck - Yami Bakura's Occult Deck by Samuel Frew
'Yami Bakura's Occult Deck' - constructed deck list and prices for the Yu-Gi-Oh! Trading Card Game from TCGplayer Infinite!
Created By: Samuel Frew
Event:
Rank: 0-0
Advanced
Market Price: $126.24
Cards
Ouija boards were commonly believed to be capable of spelling out messages from spirits, but the message Destiny Board spells out will spell doom for your opponent. Destiny Board might seem like it takes a while to spell out all five letters of FINAL, but it's faster than it looks. Destiny Board itself is one letter, and since it spells out at the end of your opponent's turn (and that'll usually be the first time you activate it), you'll have Spirit Message "I" on the field in the same turn.
From there you just need to survive three more of your opponent's turns without Destiny Board being destroyed...which is easier said than done. Sentence of Doom can conjure an extra letter on the field, but only use it to play Spirit Message "L", as Destiny Board must ignite its Spirit Messages in the correct order. Dark Sanctuary liberates Spell & Trap Zones by igniting the Spirit Messages in your Monster Zones and protecting them, though Destiny Board itself is still vulnerable.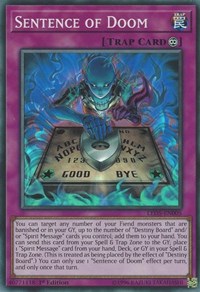 This deck works best when Dark Sanctuary and The Dark Door are both befuddling your opponent. Yami Bakura had to sacrifice monsters to keep Dark Sanctuary powered in the anime, but you don't have to in the real game. Three Sangan help you gaze for options, like Morphing Jar to refill your hand or the bogeyman of Special Summoned boss monsters himself, Jowgen the Spiritualist.
Dark Spirit's Mastery can search Destiny Board if you don't draw it, but we'll also include Pot of Duality to help scry through your deck for any missing cards — as is fitting for Yami Bakura's nature as Bakura's dark half. The Special Summon restriction won't often be an issue. We'll also run Terraforming and Metaverse (this is becoming a trend) to see Dark Sanctuary more often. If you draw extra Spirit Messages, you can shuffle them back into the deck with the other effect of Dark Spirit's Mastery.
Yami Bakura's Dark Necrofear looked terrifying enough, but her true power lies in her marionette, which unleashes its curse when destroyed and possesses an opposing monster. Curse Necrofear is summoned by retrieving banished souls but can also be conjured by Dark Spirit of Banishment and Dark Spirit of Malice.
The trick is burying her in the graveyard in the first place; Morphing Jar and Foolish Burial will assist. Once she's been summoned, her curse is eternal; she resurrects after every turn she was destroyed and hexes any card on the field by drawing power from your face-up Spells and Traps.
Yami Bakura has a wealth of untapped potential, be it for Destiny Board, Diabound Kernel, or his largely unreleased lockdown deck from Dawn of the Duel. All of them are wildly different and very spooky strategies, but the Destiny Board deck is the most well-known and it's one of the more unusual alternate win conditions. Decks like these are always difficult to pilot, but the calculation involved with this deck will have you feeling like an evil mastermind when you successfully pull it off.