Kia ora everyone! This week we'll be looking at one of Yubel's many decks, and one they had two variants of to boot: Sacred Beasts.
When Yubel was influenced by the Light of Destruction, they wanted payback on Jaden for seemingly abandoning them… And Yubel needed raw power to get it. Yubel opened the Spirit Gates and retrieved the three Sacred Beast Cards: Uria, Lord of Searing Flames, Hamon, Lord of Striking Thunder, and Raviel, Lord of Phantasms. In Yubel's hands the cards had their real effects, as opposed to the more busted abilities they had when Kagemaru used them, but Yubel made up for it by fusing them into Armityle the Chaos Phantasm, which traded in the more versatile effects of the Beasts for a whopping 10,000 ATK!
Even that was barely enough, when Yubel found themselves possessing Jesse Anderson and dueling Adrian Gecko: Yubel had given their Exodia cards to Gecko in a prior deal. Although Yubel used the Phantom of Fury effect of Armityle to banish Adrian's Exodius the Ultimate Forbidden Lord, Adrian in turn banished Armityle and forced Yubel to Summon…well, Yubel.
Today's Episode Deck meshes aspects of Yubel's Sacred Beast strategies with Kagemaru's, and it looks to harness the power of Phantom Rage's Armityle the Chaos Phantasm - Phantom of Fury to clear your opponent's field. That sets your opponent up so you can strike them down with Armityle the Chaos Phantasm itself on your next turn!
Yu-Gi-Oh! TCG Deck - Yubel's Sacred Beast Deck by Samuel Frew
'Yubel's Sacred Beast Deck' - constructed deck list and prices for the Yu-Gi-Oh! Trading Card Game from TCGplayer Infinite!
Created By: Samuel Frew
Event:
Rank: 0-0
Advanced
Market Price: $222.34
Cards
Thanks to the new cards from product-hover id="214982" it's a lot easier to summon a single Sacred Beast than ever before, with Chaos Summoning Beast.
Ideally you want Dark Beckoning Beast and Chaos Summoning Beast in your opening hand, as Dark Beckoning Beast lets you search Opening of the Spirit Gates to get a Sacred Beast if you need it, or a monster that lists a Saacred Beast in their text, like Dark Summoning Beast. You can then banish Chaos Summoning Beast to search Kagemaru's Fallen Paradise if needed, allowing you to protect your Sacred Beasts and draw two cards each turn.
If you want to focus on the Sacred Beasts themselves, one of your best combos involves Special Summoning Hamon, Lord of Striking Thunder with Chaos Summoning Beast and setting yourself up to activate Phantasmal Martyrs. The cost of ditching your entire hand to summon three Phantasmal Martyr Tokens is easily deflected by discarding Dark Summoning Beast to search Raviel, Lord of Phantasms, giving you two 4000 ATK monsters immune to targeting and destruction.
If you're worried about the lone Dark Beckoning Beast that you'll probably leave on your field, you can tribute it with the effect of Raviel to stop your opponent from getting a cheap shot at it, or leave it as bait for Chaos Burst.
Cerulean Skyfire
It's not the end of the world if you don't draw Chaos Summoning Beast or a Sacred Beast, since you can summon Dark Summoning Beast and tribute it to summon any Sacred Beast from your Deck. You just won't be able to attack that turn. Cerulean Skyfire and Awakening of the Sacred Beasts help with defense, and the latter's particularly effective if you can combo to summon Raviel and Hamon.
Uria, Lord of Searing Flames will generally get the short end of the stick since its ATK is dependent on the Continuous Traps in your graveyard. Three Awakening of the Sacred Beasts are already included, so we'll also add a single Hyper Blaze to make summoning it with its own procedure more flexible and boost its ATK, based on any trap in your graveyard. Yubel made use of Dark Bribe against Jaden and Jesse, so three of those will do nicely for extra negation.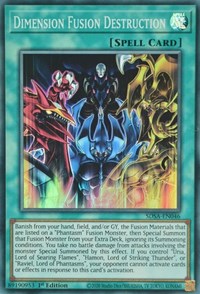 Armityle the Chaos Phantasm only needs the three Sacred Beasts out to be Summoned, but Dimension Fusion Destruction can Summon it using the Beasts from your hand, field or graveyard, and it's needed to summon Armityle the Chaos Phantasm - Phantom of Fury.
Just like Yubel did to Adrian, you can give control of Armityle the Chaos Phantasm - Phantom of Fury to your opponent, banish every card they control, then summon the original Armityle the Chaos Phantasm. Backed up by Fallen Paradise it's very difficult to remove, and it'll be ready to attack next turn. Since Yubel used Plant monsters in their final deck you've got the infamous Predaplant Verte Anaconda too, for when you can't draw or search Dimension Fusion Destruction.
When Sacred Beasts were listed in the Structure Deck Poll Plan in 2019, many of their fans waited breathlessly for the results - including me! They led the poll for a while, but wound up narrowly losing to Shaddolls in the end. Fortunately, Konami decided to give the runner-up a Structure Deck as well, bringing Sacred Beasts support they'd long deserved, and the chance to make some really fun strategies!