Here at Infinite, we've been bringing you lots of reports on what's winning at Remote Duel events, like the latest Yu-Gi-Oh Extravaganzas, Remote Duel Invitational Qualifiers, and the Invitational itself.
While we do wish for those in-person YCS and Regional events to return again, we all know that won't happen until the pandemic's over. For now, organized play is still wisely postponed in the Americas and Europe. But many countries including the US, are beginning to turn a corner with vaccinations, and in a few places elsewhere in the world, life is almost back to normal. And that includes Yu-Gi-Oh tournaments.
What if I told you that there's a place out there that's actually starting to host in-person events, safely and responsibly?
Last weekend, while we were all busy watching the Remote Duel Invitational via live stream, I happened to notice some event results in my news feed. Surprisingly it was an in-person event with 7 rounds of Swiss, and then a cut to Top 8. It had amazing prize support, too! After looking into it more, I decided I wanted to take some time and write about it, since this tournament wasn't some small local event. This was big enough to rival the size of a small Regional.
New Zealand's Done Great Fighting COVID
I'll be honest, I don't really keep up to date with what's happening in the world. The COVID-19 pandemic's a huge international issue and it's almost impossible to follow every aspect of it, so let me run some things down for you so we're all on the same page.
New Zealand has one of the lowest COVID death rates in the world, and they have exceptionally low case numbers. Most analysts accredit that to the strength of the country's initial response, even before vaccines were available: New Zealand's government was quick to organize in the face of the pandemic, limiting the spread of the virus, and did an excellent job promoting a plan to ensure public safety. Ever since around October of 2020, they've had very few active cases, and as an extension of that an exceptionally low mortality rate. In New Zealand it's largely safe to go outside again, and it's been that way for months.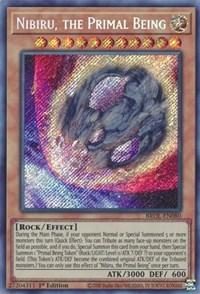 A return to normalcy also means, at least eventually, a return to in-person Yu-Gi-Oh tournaments! That's why last Saturday, Shuffle "N" Cut Hobbies and Games teamed up with Your Move TCG Events to host a live event in the city of Auckland. The turnout reached an impressive 66 players, many of whom flew from all over New Zealand to attend and compete in one of the country's several big Yu-Gi-Oh tournaments in the post-pandemic era.
Why were New Zealanders so willing to travel for this tournament? Well, first who doesn't want to play some competitive, high-stakes Yu-Gi-Oh, live and in person? We all can't wait to get back into it. But the prizes were great too, including a World Championship 2019 Pack! If you're not familiar with swag from recent World Championships, this was the prize set with the Japanese Lost Art version of Monster Reborn, and Red-Eyes Black Dragon with a Prismatic Millennium Rare finish. A sealed copy of this set easily fetches over a thousand dollars!
These envelopes were originally awarded back in the 2019 World's Celebration OTS events, which were held in many OTS locations. There were two per store: one was awarded to the winner of each local event, while another was raffled away. I have one myself and it's a very nice collectible to have, since there are so few of them out in the world.
Back to the event: 66 players meant seven rounds of Swiss with a Top 8 playoff, running from 9am to 7:30pm. The attendees even had time to compete in a bunch of side events, like win-a-mat tournaments and a win-a-box. It sounds like a well-run event, with tons of fun and Yu-Gi-Oh to be had! And luckily for us, they did a great job with the coverage: there are lots of photos and even some deck breakdowns to share.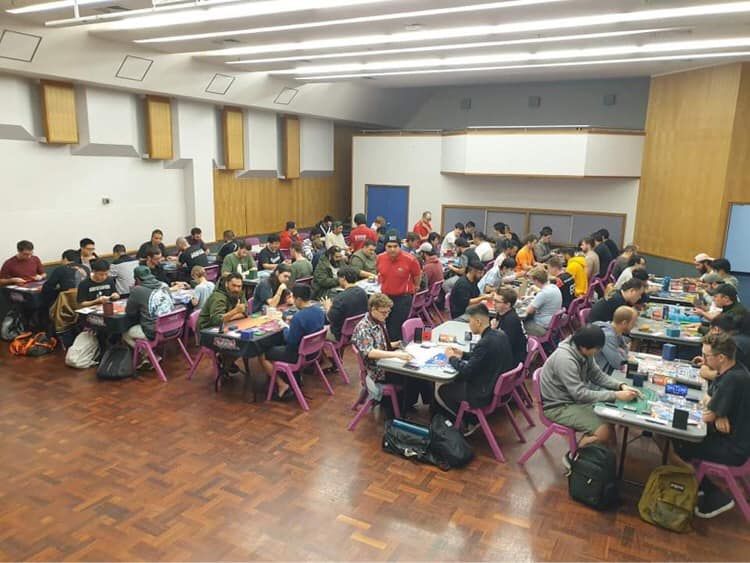 The photos and charts in this article were made possible by Wilson Yip and James Hamil from Shuffle "N" Cut Hobbies and Games
The three most popular decks in the Swiss rounds were Invoked Shaddolls, Dinosaurs, and Dragon Link. From there the field was a mix of acknowledged strategies that have seen big success this format - stuff like Virtual World, Eldlich, and Zoodiacs - as well as lots of rogue decks and fan favorites, from Phantom Knights and Madolches to Blue-Eyes and Cyber Dragons.
Here's the full breakdown of the complete field.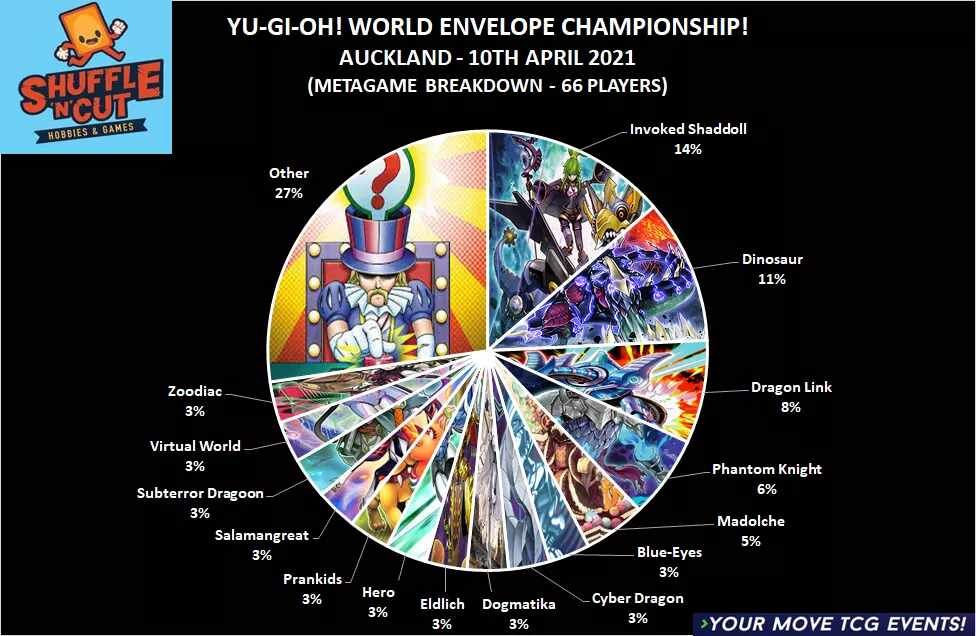 When the Swiss rounds were over and the field was narrowed to just eight remaining competitors, the Top 8 consisted of 2 Invoked Shaddoll builds, 1 Phantom Knight deck, 1 Zoodiac Eldlich, 1 Pure Zoodiac deck, 1 Dragon Link, 1 Dinosaur, and 1 Prank-Kids deck. The variety really shows how balanced the current format can be.
Want to see all the Top 8 builds? You can find them archived right here on Infinite.
And The Winner Is…
In the end, Andrew Doodson piloted Prank-Kids to defeat Dinosaurs in the finals and was crowned the champion of the event, taking home product-hover id="196864" with an impressive finish of 9-0-1.
Here's what he played.
Yu-Gi-Oh! TCG Deck - Prank-Kids by Andrew Doodson
'Prank-Kids' - constructed deck list and prices for the Yu-Gi-Oh! Trading Card Game from TCGplayer Infinite!
Created By: Andrew Doodson
Event: Shuffle 'N' Cut Championship Auckland
Rank: 1st
Advanced
Market Price: $695.79
Cards
Andrew's build really shows how Prank-Kid decks are getting more and more refined; with more people playing Pranks, the strategy seems well on its way to a consensus build. Doodson ran a 45-card Main Deck with There Can Be Only One and many single copy extenders like World Legacy Succession and One for One.
Ghost Belle & Haunted Mansion was an interesting tech choice, as it's pretty flexible against a lot of matchups. Its best use is acting as another answer to [Nadir Servant]] or Eldlixir of Scarlet Sanguine, so you don't have to rely on just Ash Blossom & Joyous Spring. It also comes in clutch when your opponent has Called by the Grave.
What'd he face on his way to the winner's circle? Here's a quick rundown of the matchups Doodson played over the course of Saturday, as well as his record in each match.
Round 1: Invoked Dogmatika 2-1
Round 2: Pure Zoodiac 2-1
Round 3: Unchained 2-0
Round 4: Dragon Link 1-1 Draw
Round 5: Subterror Numeron Eldlich 2-0
Round 6: Phantom Knights 2-0
Round 7: Phantom Knights 2-1
Top 8: Phantom Knights 2-0
Top 4: Zoodiac Eldlich 2-0
Finals: Dinosaurs 2-0
I was able to get in touch with Doodson for a short interview. I asked him why he chose to play Prank-Kids, and how the event was for him overall.
"I've played Prank-Kids since its release day in the TCG, so I feel super comfortable piloting my favorite deck. The only other deck I had that I felt comfortable playing was Dinosaurs. But I didn't want to play Dinos in an event where everyone would be siding or even Main Decking Artifact Lancea. I also felt that other people wouldn't be prepared to face Prank-Kids, or know how to side deck against it, which gave me an edge."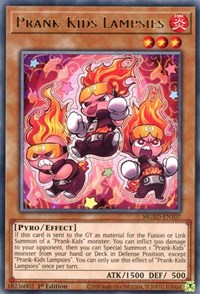 As a Prank-Kid enthusiast myself, I agree that Prank-Kids is a surprisingly a good metagame call since not many players will have the best cards to play against it. And since Prank-Kids hinges on just a 1-card combo, the deck always has enough room to play all the cards you'd want to beat the bigger matchups.
Doodson mentioned he actually took an hour-long flight to travel from the South side of New Zealand to Auckland up in the North. Since he won the entire tournament, I'm sure the trip was well worth it.
Ash Blossom & Joyous Spring
Ghost Belle & Haunted Mansion
When I asked Doodson if there were still any safety protocols in place due to the pandemic - rules for social distancing, face masks, dividers, or anything else - he told me that there was no need; the event experience was the same as it was before the lockdowns. There was hand sanitizer available for anyone to freely use if need be, but for the most part, New Zealand is well on its way to operating as a lot like it once did.
What It All Means
I didn't know it, but Yu-Gi-Oh's really popular in New Zealand! And to my surprise, they've held other tournaments in the past couple months. They had a lot of success with their recent North Island and South Island Championship series, rallying up to 70 players for each. Local tournaments have even growth in attendance, with the biggest store consistently reaching 25+ players.
I really think the New Zealand player community has the potential to reach three-digit numbers for their tournaments soon, if they hold more regional-like events with strong prizing like the Shuffle 'N' Cut Championship. That would be really cool to see!
I wanted to write about this event because I was so impressed with it. The setting, the prizes, the participation… Everything about the tournament reminded me of those in-person Yu-Gi-Oh events we all miss. And as a fan of Prank-Kids, I'm even more impressed that even though there were only two Prank-Kid players in the entire event, one of them managed to win, and perform so well in every round!
I'm sure someday soon, those of us in Europe and the Americas will get back to these types of tournaments, when the lockdowns are over. For now, I hope you enjoy learning about this one, and if you're curious about what the event looked like - or you just want to live vicariously through pictures of smiling people enjoying in-person tournament play - you can find more photos of the event on the Your Move TCG Events facebook page here.
In the mean time, stay safe out there!