Imagine a cEDH player. If you're a Commander fan who's spent any amount of time in stores or has played for prizes, whatever just popped into your head is… probably wrong.
What if I told you that all the people who continually pubstomped you with a highly efficient combo deck weren't cEDH players, even if they claimed to be? In fact, I'll just assure you that's the case. The mindset of somebody who pubstomps purposefully is entirely different from that of the cEDH community at large.
To explain, we must zoom out the lens to examine what makes cEDH tick. The secret? Rule 0 and player motivations.
Rule 0: These are the official rules of Commander. Local groups are welcome to modify them as they see fit. If you'd like an exception to these rules, especially in an unfamiliar environment, please get the approval of the other players before the game begins.
Wide-reaching and powerful, this section of the Commander regulations allows for much of the fun that we have while playing. The thoughts behind Rule 0 are expounded upon in The Philosophy of Commander document (something every player should read):
Commander is designed to be a malleable format. We encourage groups to use the rules and the ban list as a baseline to optimize their own experience. This is not license for an individual to force their vision onto a play group, but encouragement for players to discuss their goals and how the rules might be adjusted to suit those goals.
Rule 0 can be used in amazing ways to create an environment that works for everybody at the table. When people have honest conversations about what they enjoy and want to avoid while also being able to give and take, great things happen. Much fun is had.
As a gameplay experience, cEDH is one of the greatest examples of Rule 0 at work. In fact, I'd say it's the greatest, as have many others. It allows our community to create our own format-within-a-format that is both similar and different from Commander. Since everybody is always sitting down with the same expectations ahead of time, we avoid power level discussions, hurt feelings, miscommunication about intent, and more.
The expectations around cEDH are pretty simple. They center around creating a specific type of fun at the table, centered around fast, efficient, and win-focused gameplay.
We expect people to bring, at the very least, optimized decks to the table. There's plenty of room for experimentation, self-expression, and brewing inside of cEDH. Just make sure you can win the game in a relatively timely and effective fashion!
cEDH players are also expected to make plays that increase their chances of winning or that directly stop their opponents from winning, not just playing however they feel led in the moment.
When you join a competitive Commander game, you must meet these expectations or else you (and probably the rest of the table) will step away from the game disappointed. But, if all goes according to plan, there are few things more exciting and exhilarating than a cEDH game where everybody is on the same page. Players are focused on playing to the best of their ability with powerful decks to create an incredible game of Magic.
Building for Incredible Games
Outside of Rule 0 and expectations, cEDH and Commander are mirrors of each other in very obvious ways. We follow the same base ruleset, meaning that cEDH decks have one or two (... usually two) Commanders, paired with a ton of singleton cards. We observe the same banlist, missing Paradox Engine with all of our hearts. We share plenty of the same staples.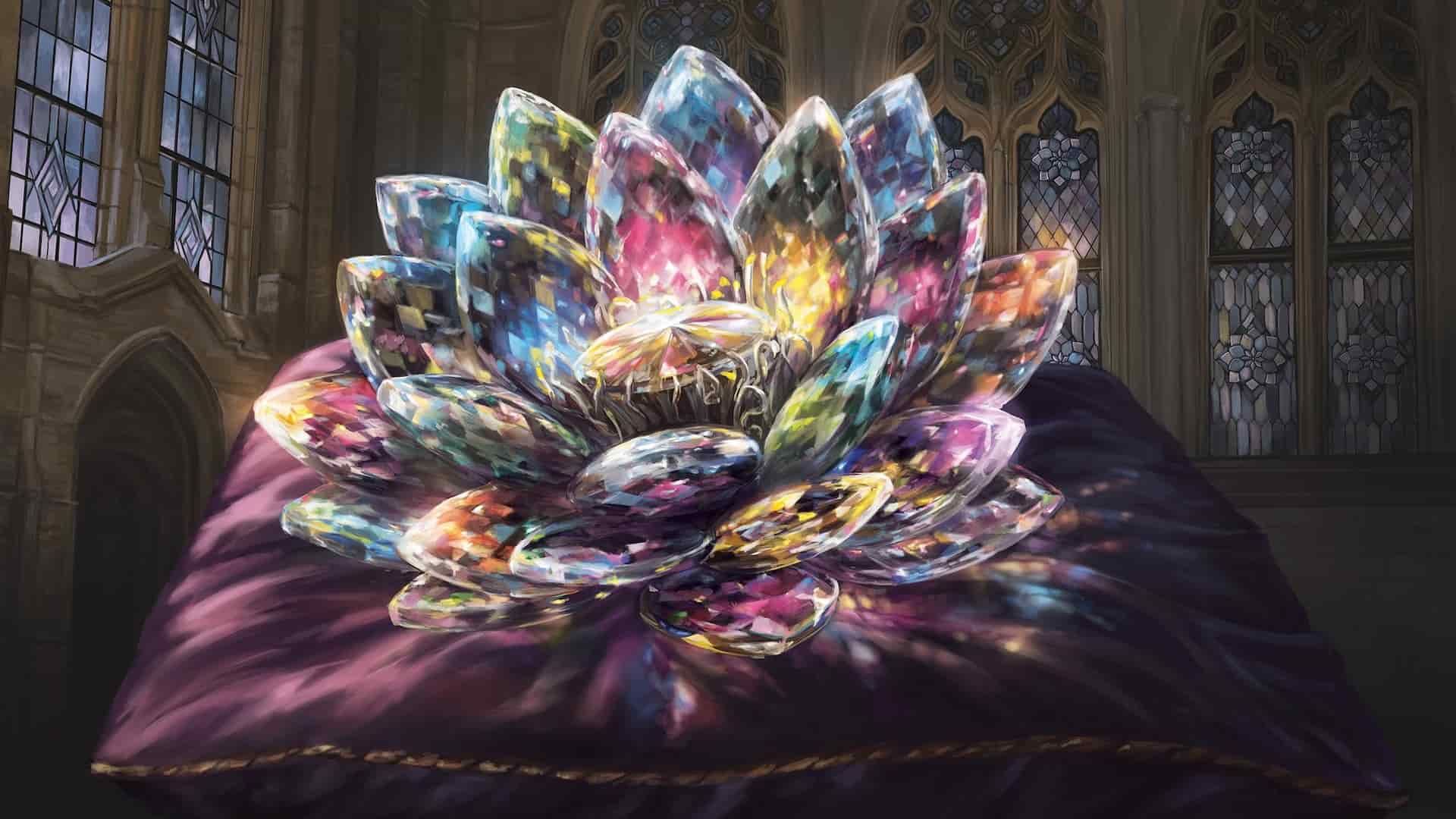 But because of our shared expectations, we do everything we can to break those staples in half. This results in highly tuned, deadly decks that typically fall into one of a handful of known archetypes. While most Commander players prefer to build decks as unique as their creator's fingerprints, cEDH players prioritize deadly efficiency. Content creators and the cEDH Deck Database (a helpful tool that lists powerful decklists for reference and inspiration) incidentally create some amount of homogenization while also being helpful in making the format more accessible.
However, even with the homogenization present within the cEDH community, there is incredible room for customization and self-expression with cEDH as well. Take my own pet deck for example, which is helmed by Rashmi, Eternities Crafter.
Magic: The Gathering TCG Deck - Cal's Epic Rashmi by Cal Jones
'Cal's Epic Rashmi' - constructed deck list and prices for the Magic: The Gathering Trading Card Game from TCGplayer Infinite!
Created By: Cal Jones
Event:
Rank: 0-0
Commander
Market Price: $3257.50
Cards
While it isn't the strongest deck out there anymore, I have brewed, honed, and tuned it myself over the last four-plus years, making it something special and unique to my own self. I have a blast every time I play it. This is true for many other players as well! There is room for you to express yourself in cEDH and forge your own path, as much as others would have you believe otherwise. We're not so different after all.
What You'll Find at My Table
While you have plenty of choices for what deck you play in cEDH, whatever you choose will fall into some archetypes of play style. The most common in cEDH are proactive, midrange, stax, and (unfortunately the least common) control. Here's a quick overview of what each brings to the table and why you might enjoy them.
Proactive Decks
A Proactive cEDH deck has a strong and fast plan that it is trying to execute. Immediately. Often sacrificing overall card quality to the altar of consistent, protected combo execution, proactive decks will often shrug when watching an opponent try to win, especially if its combo has already been stopped. However, if it's turn two through four, look out!
The proactive archetype is great for players who like to solve convoluted puzzles or like the idea of driving what is the top speed dragster of the format.
Midrange Decks
A midrange deck is often slower to start, playing out pieces that will gain it value throughout the game, putting them in a powerful position during the midgame. However, a good midrange cEDH list still has plenty of potential to win early, they just aren't sacrificing 15 of their card's power to do so.
The midrange archetype is often the best archetype for those coming straight from casual Commander! It features many of the same play patterns, allowing you to snowball advantages and efficiently deal with your opponents. See also: people who have played Jund in Modern for a decade-plus.
Stax Decks
Stax decks bring the game down to a crawl through effects such as Winter Orb, Rule of Law, and Archon of Emeria. Once opponents are barely able to play the game, the stax player (whose deck was built to operate through these effects), finds a way to win.
The stax archetype might be the most unfamiliar to those who play more casual forms of Commander, due to its often "unfun" nature. However, it's an awesome time to play if you're into finding ways to work around limitations.
Control Decks
Much like in all other formats of Magic, control decks in cEDH seek to, well, control what their opponents are doing through counterspells and removal, while using efficient card selection and draw in order to find their compact wincons. Control is a blast to play if you enjoy dictating the pace of the game and grinding out a win through card advantage!
Interestingly enough, the focused nature of these specialized lists means that we often find more variety in pod to pod in cEDH in comparison to Commander, which often end up looking like a midrange deck with some control, stax, or proactive elements scattered in for extra spice.
Different Kinds of Fun
Despite all of the differences I've listed above, the most important aspect of both a cEDH and casual Commander game is always the same: players sit down and aim to have a fun time with a shared set of expectations. cEDH players are just after a different kind of fun: the thrill of a tight, competitive, and efficient game. If you're bought into the concept, it's a blast for everybody involved, no matter who wins, because we're all on the same page, playing decks we love.
This is not the case for a pubstomper.
A pubstomper doesn't want games that are tight and efficient. They just want games where they win. So they achieve that by playing high-powered decks with no buy-in from the other players at the table. A quick reminder of one section of the Philosophy Document:
This is not license for an individual to force their vision onto a play group, but encouragement for players to discuss their goals and how the rules might be adjusted to suit those goals.
Unless you've asked for and received express permission to do so, quickly overpowering other players for a fast win, even with a deck straight off of the cEDH Deck Database, is a jerk move that flies right in the face of the underlying philosophy of cEDH. The other players may not be interested in playing a fast game or may be playing decks of a drastically different power level. In a format where many are in it for the overarching story of the game or may not like playing against certain strategies, the pubstomper denied their opponents the experience they were looking for and the game was ruined.
They made their own third version of fun. Not the fun of a fast and competitive game. Not the collaborative, lighthearted fun typical of casual Commander. Fun that only allows for their own wants and preferences, at the expense of the enjoyment of the other players.
In contrast, the competitive Commander community values strong competition among players who all have a chance to win. We want to push Commander as a format to its limits and clear away many of the roadblocks that many players and playgroups (understandably) put up for themselves. Infinite combos? Sure! Land destruction? It's often a viable strategy. Please just kill us quickly. Hating one player out of the game ASAP because they're obviously playing Ad Nauseam? Everybody knows it's the right play so there's no hard feelings.
The Rule 0 conversation that is implied in "Wanna play some cEDH?" communicates all of this and furthermore indicates what we're not interested in. We don't want to hopelessly overwhelm you in a cheap attempt to win. While winning is often the goal, it's not worth it if your opponents don't have the same fighting chance. As a result, this competitive drive which can come with a bad reputation leaves everybody at the table satisfied because it's what we've signed up for.
If this whole conversation could be boiled down to an analogy, we could look at racing. A Commander "race" could contain anything from a Camry to an F1 car, but it's only going to be interesting and entertaining to everybody if they have a fair shot. If somebody sneakily brings an F1 to a race day of Priuses and Mazda Proteges, there is no competition or fun to be had for three of the four involved. In the realm of cEDH, we always know to bring F1 cars to race day… and then just try not to crash them into the wall.
So, yeah. cEDH is good, actually. We're not the boogey-people, I promise. We're just looking for some powerful games of Magic that are pretty dang fun. Plus, if we're being honest, your Selvala, Heart of the Wilds deck will run over my Rashmi, Eternities Crafter deck any day.